All and Sundry Shows in 2022
Every year All and Sundry try and put on a broad range of shows to capture the the interest of our members and our wider audience. From Dazzling Pantomimes to gritty drama we hope there is something for everyone
Click on show name to see some details
Gallery
A selection of photographs from the show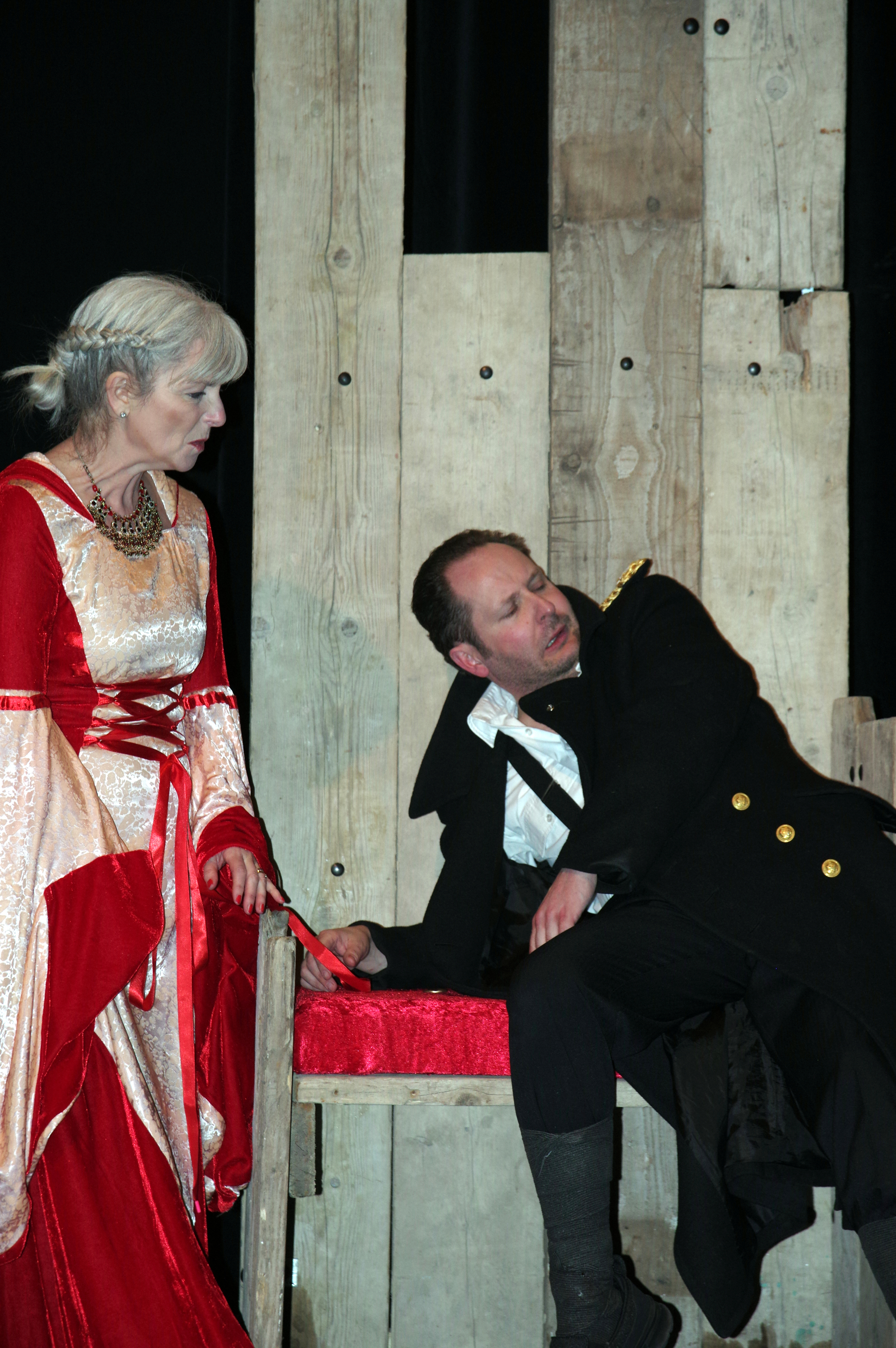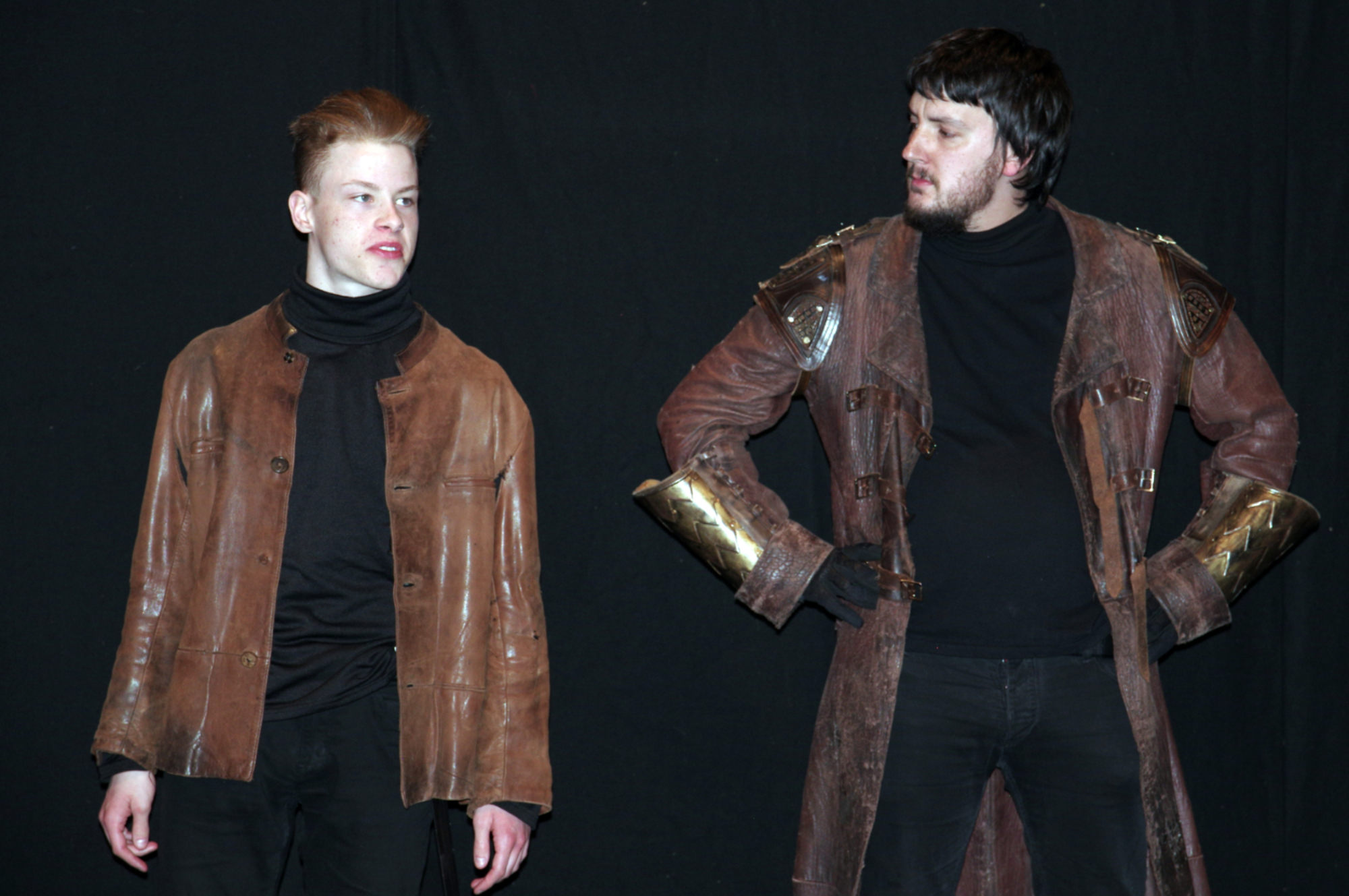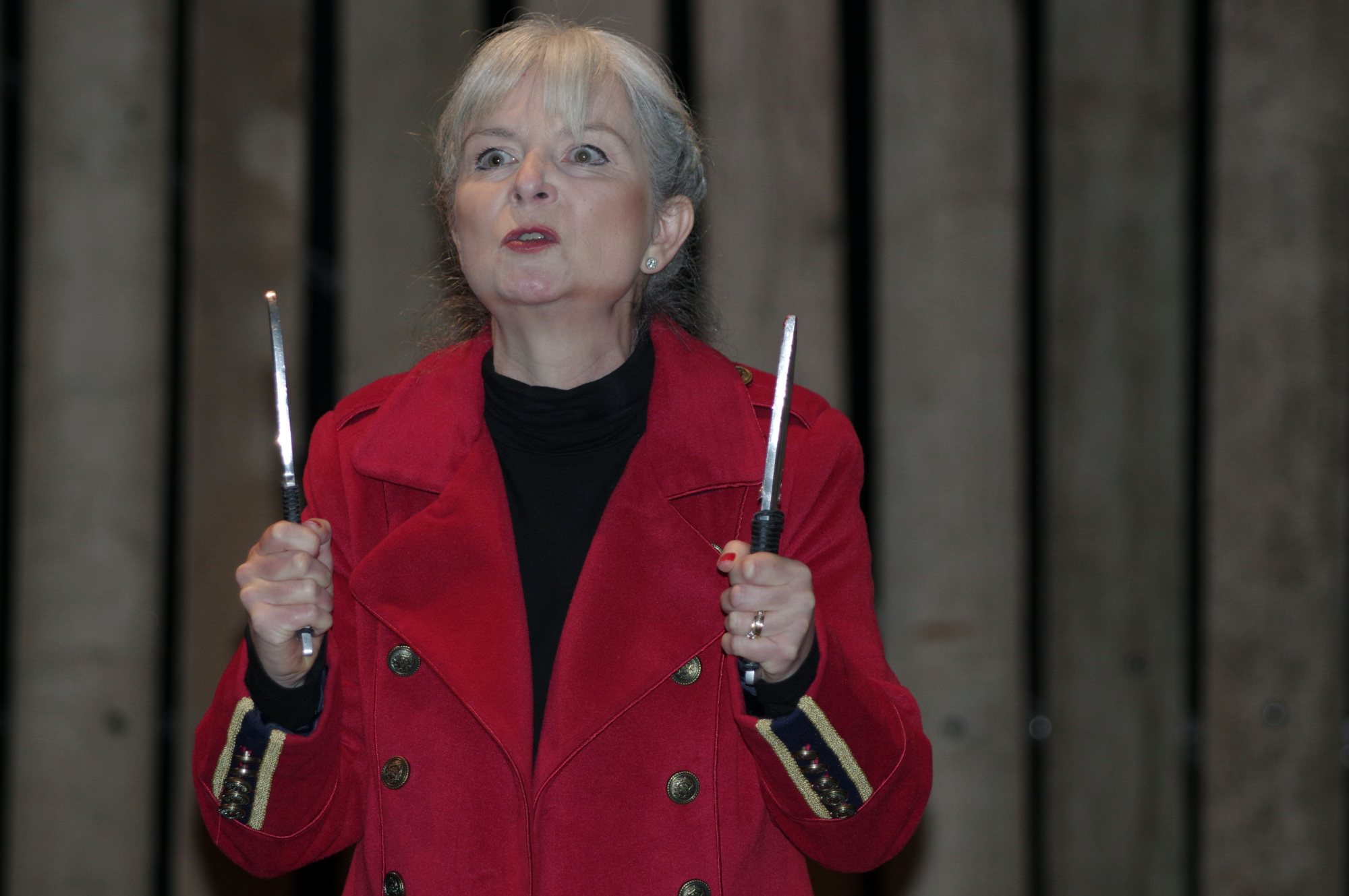 Use scroll bar to view Gallery

Macbeth
Crescent Theatre, Birmingham
Wed 09 Mar to Sat 12 Mar
All & Sundry proudly present Shakespeare's masterpiece 'Macbeth'. Often referred to as 'The Scottish Play' such is the curse of the mention of the tyrannical, brutal and paranoid King of Scotland as his obsession with power descends him into madness. Three witches predict that a brave, heroic general named Macbeth will become king of Scotland thereby instigating a tragic and bloody chain of events. Acting upon the prophecy and encouraged by his wife, Macbeth slaughters King Duncan who at present resides on the throne and thus becomes King of Scotland fulfilling the prophecy. Once upon the throne he becomes a paranoid, tyrannical ruler who's forced to commit more and more murders as he descends into madness.
Cast
Macbeth
Alan Feeney
Lady Macbeth
Ruth Cattell
The Witches
Laura Cooney Suzanne Lane Phoebe Devenney
Banquo
Rob Capper
Macduff
Matt Field
Ross
Graham Forbes
Duncan/Siward/Old Man
David Goode
Malcolm
Tony Madden
Donalbain
Alex Johnson
Fleance/Young Macduff/Young Siward
Phoebe Devenney
Lady Macduff
Suzanne Lane
Porter
George Cochrane
Hecate
Sarah Pitts
Doctor
Peter Whitten
Gentlewoman
Laura Cooney
Servant/Messenger
Ken Messenger
Captain/Seyton
John Edwards-Bick
Murderers
Matt Field Peter Whitten Ken Messenger
Creatives
Director
John Edwards-Bick
Stage Manager
Brian Wiggins
Lighting and Sound
Simon Wicks
Wardrobe & Props
Royal Shakespeare Company, Stratford
Specialist Props
John Thompson
Set Design & Construction
John Edwards-Bick
Poster Design and Programme
Graham Forbes
Photographer
Roy Miles
Fight Director
Matt Fearnley

Gallery
A selection of photographs from the show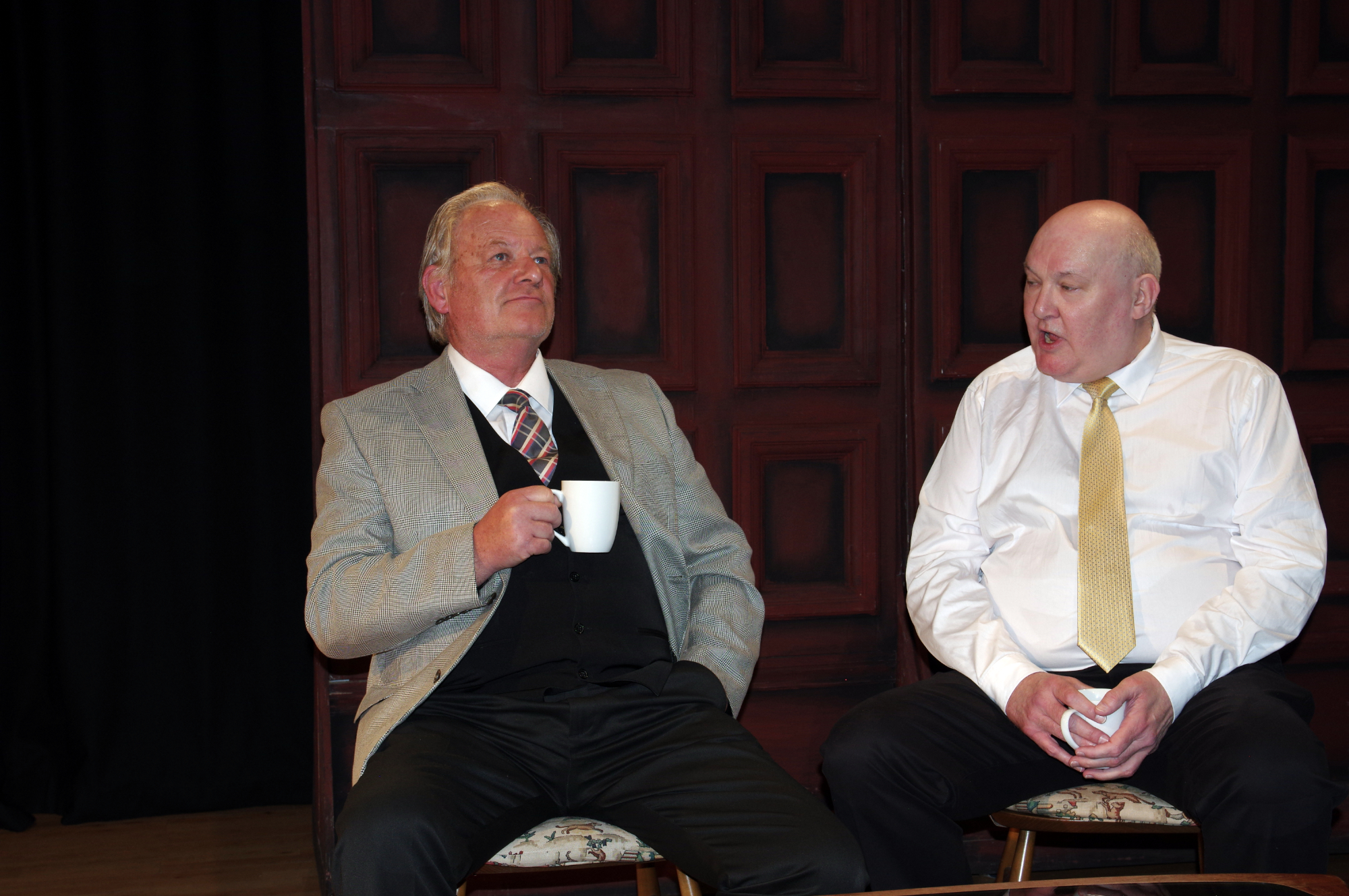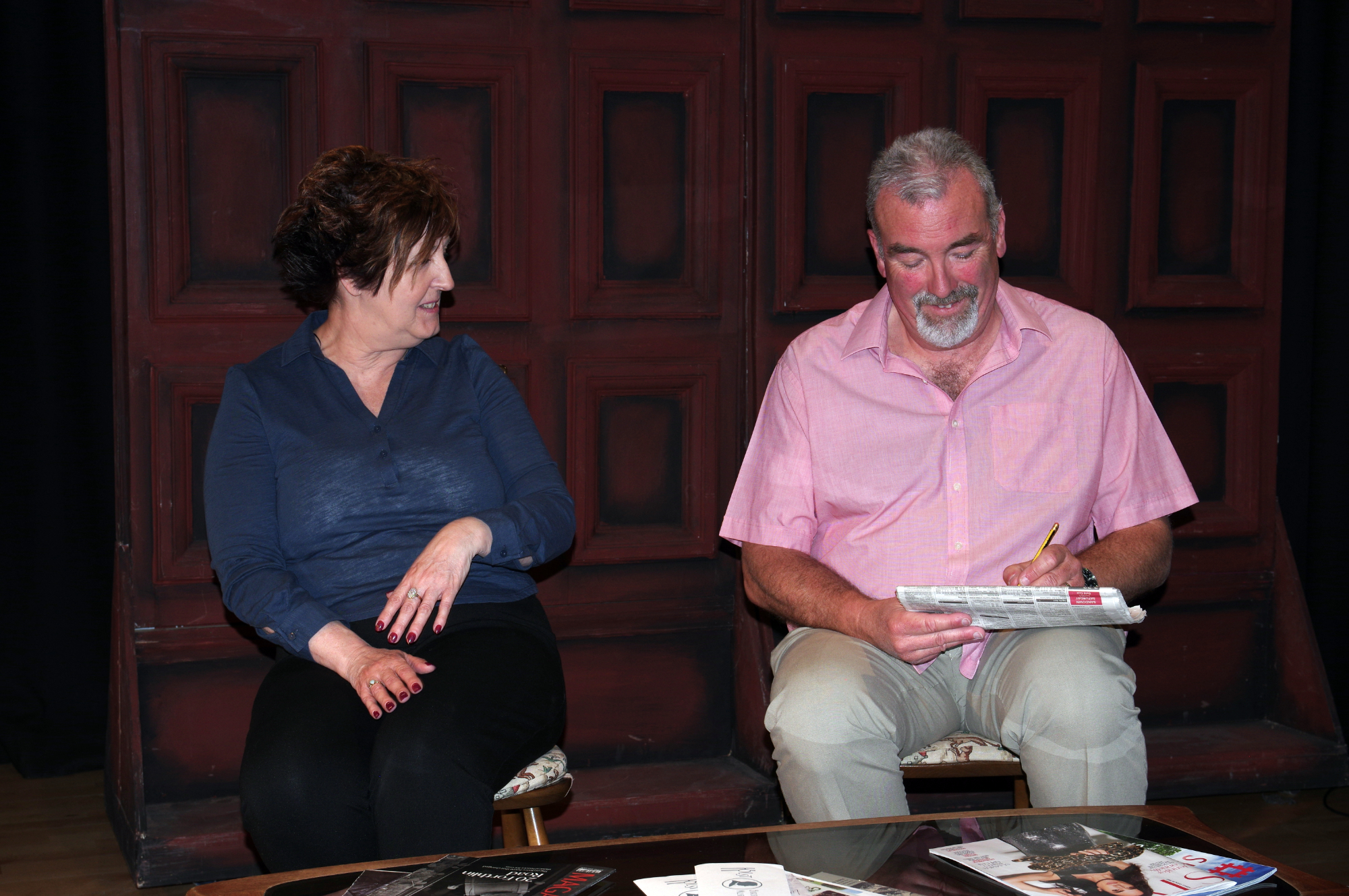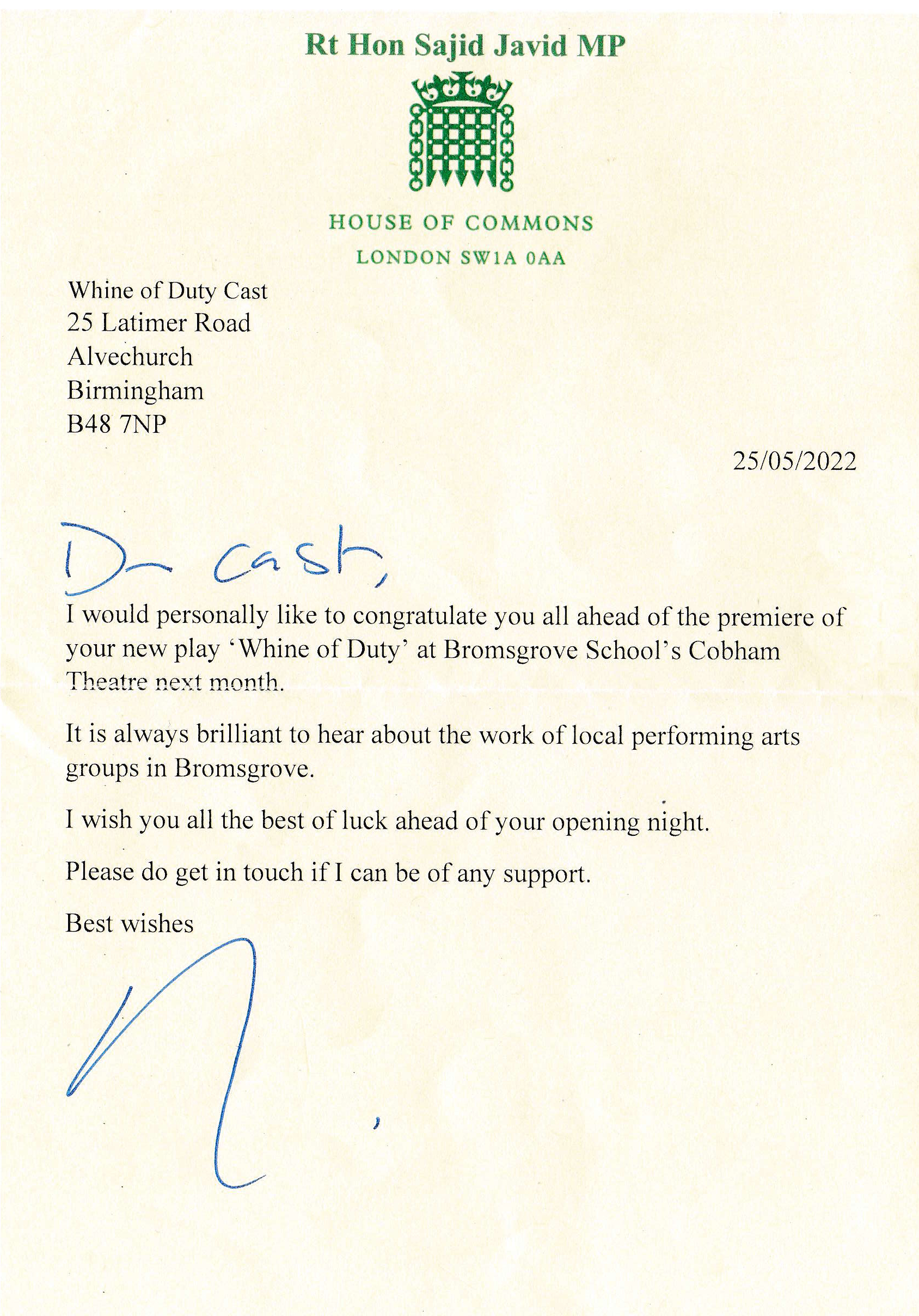 Use scroll bar to view Gallery

Whine of Duty
Cobham Theatre Studio, Bromsgrove School
Wed 01 Jun to Sat 04 Jun
Danny Boyce has recently taken early retirement from his job as a detective, to set up a guest house in downtown Cheltenham with his wife Sandra. When crimes are committed in the town, he can't resist sleuthing and suspecting his guests, much to his wife's chagrin. This new comedy by the author of Fifty Shades Of Beige is a cross between Fawlty Towers and an Agatha Christie who-done-it.
Cast
Danny Boyce
Mike Richardson
Sandra Boyce
Joy Williamson
Brian Dooley
Neil Lane
Alice Watt
Zena Schtyk
Elaine Rodgers
Laura Cooney
James Rodgers
James Ralley
Alan
Dave Healing
Creatives
Written and Directed by
Roger Goddard
Assistant Director
Ken Messenger
Stage Managers
Lynn Hubbard Graham Forbes
Lighting and Sound
Simon Wicks
Artwork and Graphics
Graham Forbes
Photographer
Roy Miles


Silly Cow
Norbury Theatre, Droitwich
Tue 27 Sep to Sat 01 Oct
Doris Wallace has everything a tough tabloid columnist could want: a toy boy with a regular supply of Colombian, a pretty personal assistant who might share her libidinous preferences, and the prospect of her own television show. Being sued by an actress for libel is a petty annoyance, but Doris puts her in her place by revealing her ample cleavage as she flirts with the judge and spouts populist bravado. She is ready to celebrate her victory in court when things begin to go wrong: television materials are missing, a pal she double crossed wants revenge, her accountant is about to pull a fast one and those she has defamed in her column tie her to a chair during her show and dish out the kind of humiliation she inflicts on others. This is a hilarious adult play by the Lawrence Olivier Award-winning author Ben Elton.
Creatives


Hook's Revenge (Return to Neverland)
Cobham Theatre, Bromsgrove School
Fri 16 Dec to Fri 23 Dec
All & Sundry's annual extravaganza returns with a brand new family pantomime. Captain Hook has long since been defeated by Peter pan and banished from Neverland but now he's returned even more nasty than before and he is determined to wreak his revenge on Peter. To help him in his task, he enlists the help of two of the nastiest pirates ever to sail the seas. Hook is still wary of the ticking crocodile and has hired Australian crocodile hunter Croc Fundee to capture the beast. Meanwhile, Peter Pan enjoys another day having a lie-in after binge-watching the latest Netflix series. It seems that since defeating Hook and his pirates, Peter has become bored and no longer bothers to join in adventures with Tinkerbell and The Lost Boys, In fact, he doesn't even bother to fly anymore because it's too tiring. Peter discovers Hook has returned, but because he hasn't flown in ages, he has now lost the ability to fly. In order to regain the power of flight, he must travel to the Neverlandee tribe's sacred cave and drink from the magical spring. Peter and his friends travel through the Neverland Jungle, beset with a wild gorilla to reach the cave, however once inside, Hook dynamites the only entrance sealing Peter and his friends inside, along with the crocodile. This version of Peter Pan has Peter's feet firmly on the floor, but will that enable Hook to finally defeat his once airborne adversary?
Creatives
Director
Alison Berrisford