All and Sundry Shows in 2008
Every year All and Sundry try and put on a broad range of shows to capture the the interest of our members and our wider audience. From Dazzling Pantomimes to gritty drama we hope there is something for everyone
Click on show name to see some details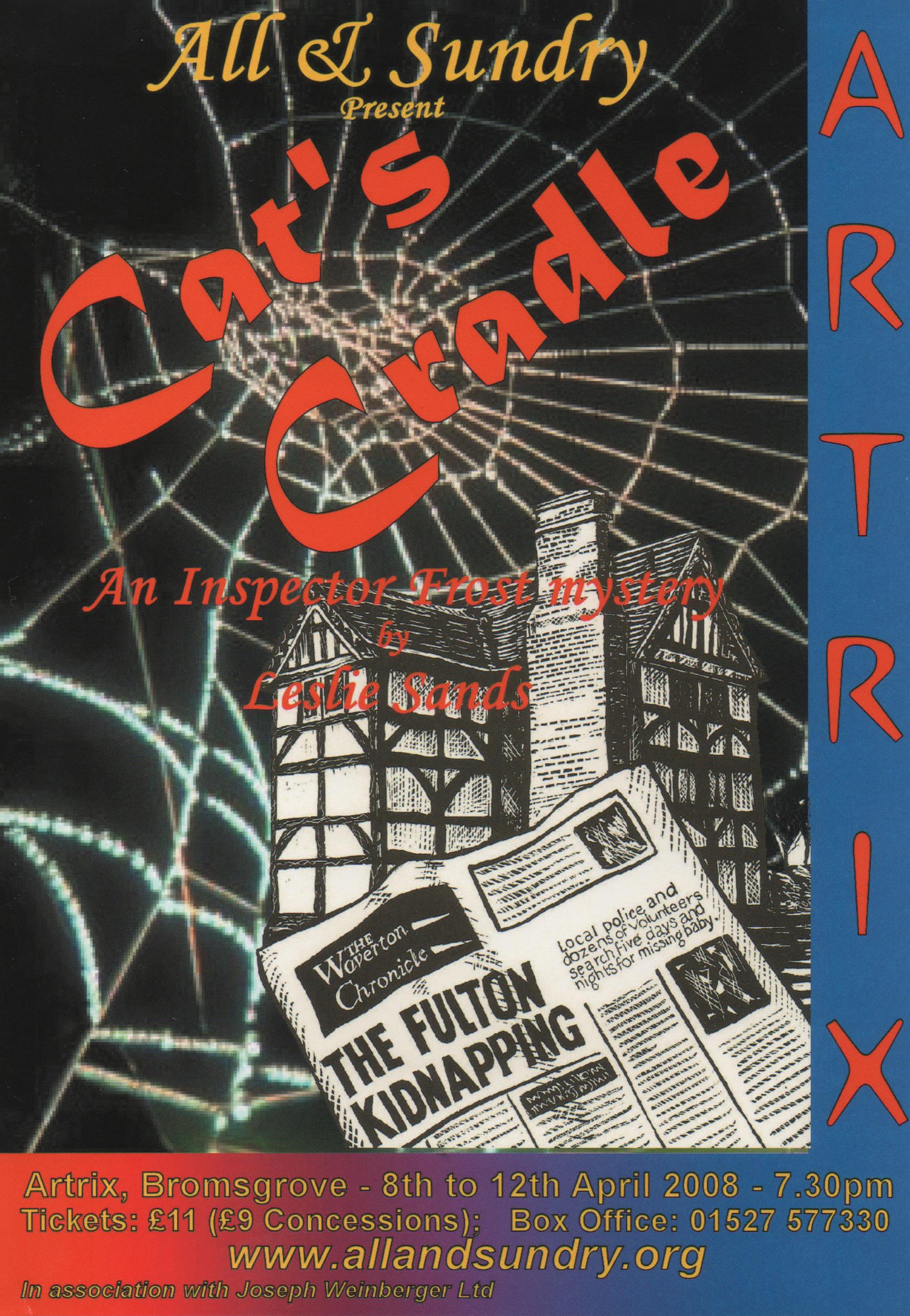 Gallery
A selection of photographs from the show
Use scroll bar to view Gallery

Cat's Cradle
Artrix Theatre, Bromsgrove
Tue 08 Apr to Sat 12 Apr
In a last desperate attempt to resurrect his career in the CID, Inspector Frost re-opens the case that ruined him - a kidnap and possible murder he failed to solve some years before. With a new piece of evidence, he returns to the village in which the disappearance occurred.
Cast
Peggy Fletcher
Victoria Vollans
Sam
Christopher Pitcher
Miss Merton
Sally Turner
Sarah
Carla Aubrey
Pamela Fulton
Chris Reynolds
Frost
Roger Goddard
Bob Marriott
Inaki Deza
Sir Charles Cresswell
John Edwards-Bick
Creatives
Written by
Alison Berrisford, Cast Members
Director
Raph Aldis
Producer
Paul Vollans
Assistant Director
Victoria Vollans
Stage Manager
Brian Wiggins
Lighting and Sound
Jim Gray
Back Stage Crew
Pete Reynolds, Vicky Cook
Props
Vicky Cook, Cast Members
Set Design
Paul Vollans
Set Construction
Barb Allington, Hartle Lane Saw Mill
Publicity
Brian Wiggins
Poster Design
Paul Vollans

Gallery
A selection of photographs from the show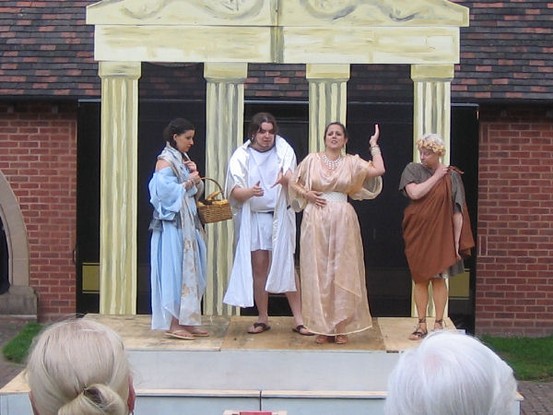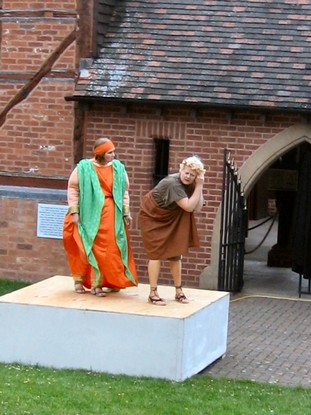 Use scroll bar to view Gallery

The Comedy of Errors
Avoncroft Museum, Bromsgrove and Forge Mill Museum, Redditch
Sat 05 Jul to Sun 13 Jul
After both being separated from their twins in a shipwreck, Antipholus and his slave Dromio go to Ephesus to find them. The other set of twins lives in Ephesus, and the new arrivals cause a series of incidents of mistaken identity.
Cast
Solinus:
TC Peppercorn
Aegeon:
Christopher Pitchford
Antipholus of Ephesus
Chris Hughes
Antipholus of Syracuse
Richard Walter
Dromio of Ephesus
Nigel Buckley
Dromio of Syracuse
Pat Hobday
Balthazar
Malcolm Berwick
Angelo
Melanie Jeffrey
1st Merchant
Chris Reynolds
2nd Merchant
Malcolm Berwick
Pinch
TC Peppercorn
Aemilia
Sally Turner
Adriana
Diane Richardson
Luciana
Carla Aubrey
Luce
Cathy Stokes
Courtesan
Joanne Wright

Gallery
A selection of photographs from the show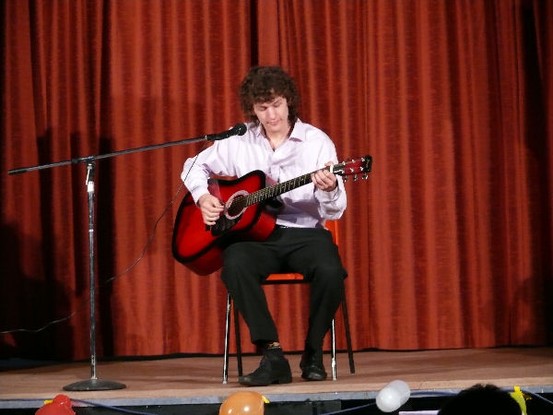 Use scroll bar to view Gallery

Youth Production 2008
Alvechurch Village Hall
Sat 19 Jul
A Variety Show of music, dance and comedy produced entirely by the young people of All & Sundry
Cast
Suzanne Richter
Rory McGhie
Laury Wiggins
Danielle Wiggins
Dave Berrisford
Ciara McGhie
Bethany Johns
Abigail Johns
Laura Morgan
Ben Ponsonby

Gallery
A selection of photographs from the show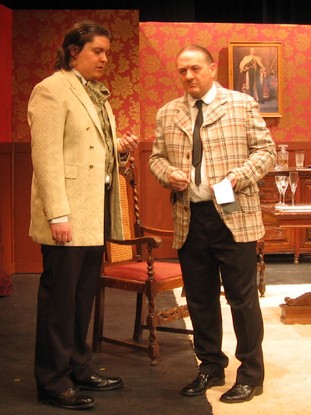 Use scroll bar to view Gallery

An Inspector Calls
The Crescent Theatre, Birmingham
Mon 22 Sep to Sat 27 Sep
The Birling family are toasting the engagement of their daughter, when the joyous occasion is suddenly and unexpectedly interrupted by the arrival of a stranger at the door. An Inspector has called to investigate the tragic death of a young woman. A suicide, or so it would seem...
Cast
Arthur Birling
Mike Richardson
Synil Birling
Victoria Vollans
Sheila Birling
Emma Hobday
Eric Birling
David Berrisford
Edna
Carla Aubrey
Gerald Croft
Richard Walter
Inspector Goole
Nigel Buckley
Creatives
Director
Neale McGrath
Producer
Paul Vollans
Stage Manager
Brian Wiggins
Lighting and Sound
JIm Gray
Wardrobe
Alison Berrisford, Sally Turner
Props
Mary-Beth Culhane
Set Design
Neale McGrath, Paul Vollans
Set Construction
Barb Allington
Set Decoration
Sally Wilkinson
Publicity
Brian Wiggins
Programme
Martina Ponsonby

Gallery
A selection of photographs from the show
Use scroll bar to view Gallery

Aladdin
Artrix, Bromsgrove
Wed 03 Dec to Sat 06 Dec
A traditional Pantomime
Cast
Aladdin
Rory McGhie
Princess Jasmine
Laura Morgan
Widow Twankey
Clive Buggins
Wishee Washee
Dave Berrisford
Abanaza
Malcolm Berwick
Khazi
Naomi Hill
Won-Hung-Lo
Mikey Lightfoot
Peek-A-Boo
Ciara McGhie
PC Kung
Emma Tarling
PC Foo
Mike Richardson
Emporer
Don Hughes
Empress
Kat Cashmore
Genie of the Lamp
James Ralley
Spirit of the Ring
Megan Walford
Dancers, Chorus & Minor Parts
Megan Hill
Naomi Hill
Abigail Johns
Bethany Johns
Eleanor Hubbard
Vicky Jolly
Serena Kolontari
Zeta Kolontari
Lucy Nicholls
Sally Nicholls
Emily Pitchford
Lauren Pitchford
Bethanie Scriven
Jenni Wicks
Danielle Wiggins
Laury Wiggins
Choir and Minor Parts
Carla Aubrey
Margaret Baker
Tina Cross-Watson
Todd Cross-Watson
Alison Higgins
Jenny McGarry
Carole Moseley
Evan Perkins
Chris Pitchford
Max Ponsonby
Barbara Treen
Sam Wicks
George Winchester
Joanne Wright
Creatives
Director & Producer
Alison Berrisford
Assistant Director & Choregrapher
Martina Ponsonby
Assistant Director
Don Hughes
Stage Manager
Brian Wiggins
Sound
Simon Wicks
Lighting and Sound
Jim Gray, Wizard
Back Stage Crew
Paula Badger, Ben Clarke Vicky Cook, Patrick Culhane Helen Hill, Jamie Hubbard Staci Marshall, James McGhie David Nicholls, Dan O'Neill Chris Taylor, Howard Vollans James Vollans
Wardrobe
Alison Berrisford, Sally Turner
Props
Mary-Beth Culhane
Set Construction
Barb Allington
Publicity
Brian Wiggins
Programme
Martina Ponsonby
Chaperones
Ros Johns, Gill Wiggins Julia Walford, Julie Pask Karen Morgan, Susan Kolontari Victoria Hanrahan, Adele Lee Staci Marshall