An educational theatre group for North Worcestershire
News
Pantomime Time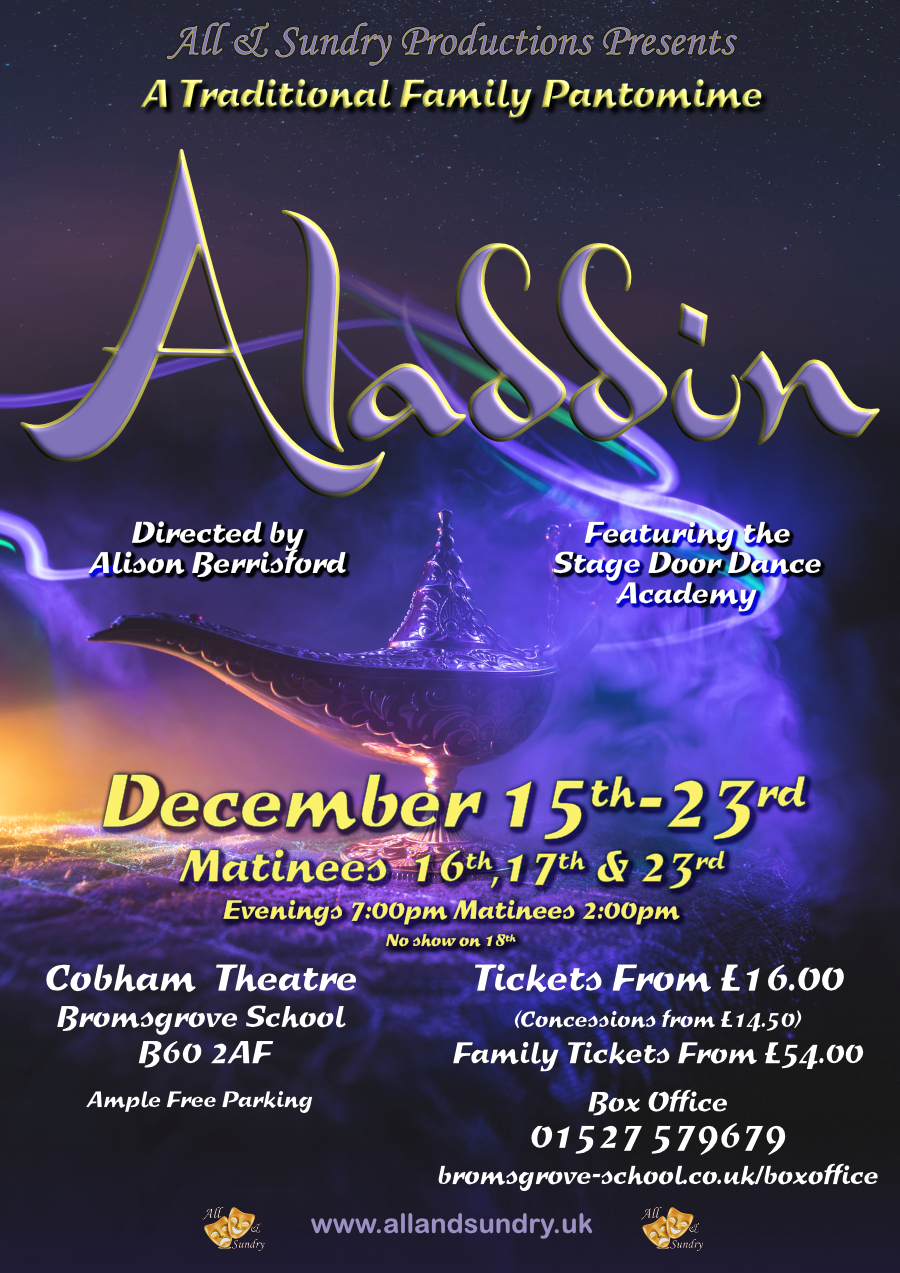 Tickets to this year's pantomime, Aladdin, are now selling fast so don't miss out, book your tickets now! See the booking link in the Diary secti ...more
Tickets to this year's pantomime, Aladdin, are now selling fast so don't miss out, book your tickets now! See the booking link in the Diary section. ...less
Diary
Ladies Day
Tue 10 Oct to Sat 14 Oct
Norbury Theatre, Droitwich
Life is one long, hard slog for the fish-filleting foursome Pearl, Jan, Shelley and Linda. But their fortunes are set to change when they head to Ladies Day at the races.
Book Tickets
Oscars Evening 2023
Fri 17 Nov
Following last year's successful evening, we will be returning to the same venue at The Bromsgrove Hotel, Birmingham Road.
Aladdin
Fri 15 Dec to Sat 23 Dec
Cobham Theatre, Bromsgrove School
Frankenstein
Wed 06 Mar to Sat 09 Mar
The Crescent Theatre, Birmingham
All & Sundry present a stage adaptation by Nick Dear of Mary Shelley's 1818 novel Frankenstein. Includes daytime performances for schools.
Book Tickets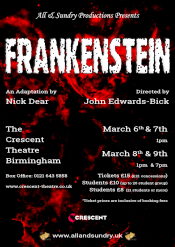 About Us
All & Sundry Productions is a semi-professional theatrical group formed in 2004 with a current membership of around 70. We are now an educational charity with the aim of introducing the younger generation to the joys of watching, or participating in, live theatre! All & Sundry Productions is totally committed to offering equal opportunities within our group, no person should experience any form of discrimination on the grounds of gender, race, religion, age, sexual orientation or disability. In regard to this we are committed to promoting equal opportunities for everyone Visit the About Us page to see more.
Gallery
A selection of photographs from previous shows