All and Sundry Shows in 2023
Every year All and Sundry try and put on a broad range of shows to capture the the interest of our members and our wider audience. From Dazzling Pantomimes to gritty drama we hope there is something for everyone
Click on show name to see some details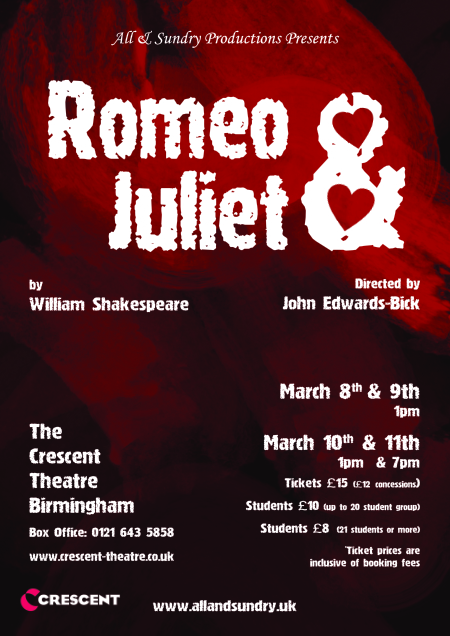 Gallery
A selection of photographs from the show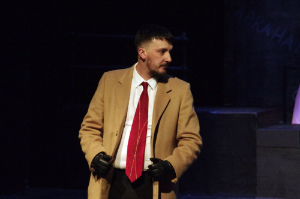 Romeo and Juliet
The Crescent Theatre, Birmingham
Wed 08 Mar to Sat 11 Mar
William Shakespeare's tragic love story where an age-old vendetta between two powerful families erupts into bloodshed. A group of masked Montagues risk further conflict by gatecrashing a Capulet party. A young lovesick Romeo Montague falls instantly in love with Juliet Capulet, who is due to marry her father's choice, the County Paris. With the help of Juliet's nurse, the women arrange for the couple to marry the next day, but Romeo's attempt to halt a street fight leads to the death of Juliet's own cousin, Tybalt, for which Romeo is banished. In a desperate attempt to be reunited with Romeo, Juliet follows the Friar's plot and fakes her own death.
Cast
Romeo
Alex Johnson
Juliet
Daisy Green
Friar Laurence
Ken Messenger
Nurse
Sarah Pitts
Benvolio
Laura Cooney
Mercutio
Kelly Wade
Tybalt
Alan Slack
Capulet
David Goode
Lady Capulet
Zena Schtyk
Montague/Friar John
Rob Capper
Lady Montague/Apothecary
Claire Hardie
Prince
Alan Feeney
Paris
Matt Field
Abraham/Balthasar
Steve Powis
Sampson/Servant
Hannah Grindy
Gregory/Page/Servent
Beth Morrissey
News Reader
Martina Ponsonby
Creatives
Director
John Edwards-Bick
Stage Manager
Brian Wiggins
Lighting and Sound
Simon Wicks
Wardrobe
Janine Parkes
Poster Design and Programme
Graham Forbes
Photographer
Roy Miles
Production Assistant
Alison Berrisford
Make-up
Special Thanks To Melissa Hulbert of University College, Birmingham with level 3 students from the SHMM Course
Filming and Editing
Alastair Butler

Gallery
A selection of photographs from the show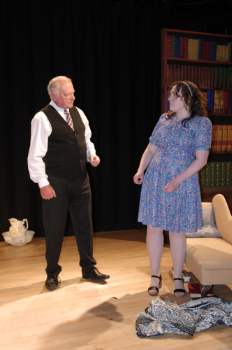 Veronica's Room
Bromsgrove School Studio
Wed 05 Jul to Sat 08 Jul
This chilling mystery thriller by the author of Rosemary's Baby explores the thin line between fantasy and reality, madness and murder. Students Susan and Larry find themselves as guests enticed to the Malvern house occupied by it's dissolute caretakers the lonely Mackeys. Struck by Susan's strong resemblance to the long- dead daughter of the family for whom they work, the older couple gradually induce her to impersonate Veronica briefly to solace the only living sibling, her addled sister who believes Veronica alive. Once dressed in Veronica's clothes, Susan finds herself locked in the role and locked in Veronica's room. Or is she Veronica, in 1935, pretending to be an imaginary Susan?
Cast
Woman
Zena Schtyk
Man
Dave Healing
Girl
Beth Morrissey
Boy
Matt Field
Creatives
Director
Terry Cooper Day
Assistant Director
Graham Forbes
Stage Manager
Hannah Grindy
Lighting and Sound
SImon Wicks Kelly Wade
Back Stage
Laura Cooney
Artwork and Programme
Graham Forbes
Photographer
Laura Cooney Roy Miles
Painting
Roger Goddard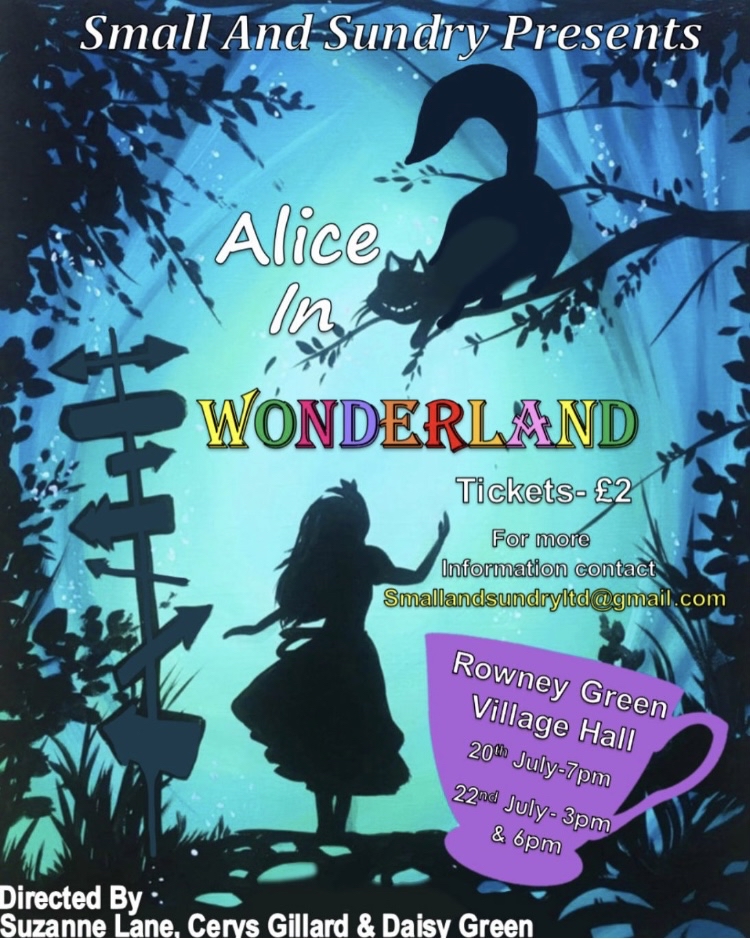 Gallery
A selection of photographs from the show

Alice in Wonderland
Rowney Green Peace Hall
Thu 20 Jul to Sat 22 Jul
smAll&Sundry, our youth group, present their adaptation of this famous tale for everyone to enjoy.
Cast
Alice
Verity Culleton
Joker/The Narrator
Ben Feltham
Sister
Amelia Bishop
White Rabbit
Poppy Allen
Mouse
Flora Martin
Canary
Holly Allen
Dodo
Sebby Cooke
Eagle
Emma Blizzard
Parrot
Lana Withers
Pete
Livi Cooper
Repeat
Alfie Cragg-Jones
Cheshire Cat
Livi Cooper
Maid
Anna Dunajewski
Duchess
Jessica Connor
Cook
Emma Blizzard
Dum
Sophie Talbot
Dee
Phoebe Yarnell
March Hare
Holly Allen
Mad Hatter
Joy Davies
Dormouse
Flora Martin
Queen of Hearts
Amelia Bishop
King of Hearts
Sebby Cooke
Herald/Knave
Ben Feltham
Turtle
Anna Dunajewski
Spades
Alfie Cragg-Jones Phoebe Yarnell Anna Dunajewski Sophia Talbot
Hearts
Joy Davies Jessica Connor Holly Allen
Roses
Emma Blizzard Lana Withers Scarlett Dcaccia Flora Martin
Creatives
Directors
Suzanne Lane Cerys Gillard Daisy Green
Lighting and Sound
Simon Wicks
Props & Costumes
Lynn Hubbard
Programme Design
Beth Cooney

Gallery
A selection of photographs from the show

My Cousin Romeo
The Dell, Riverside Gardens, Stratford upon Avon
Sun 27 Aug
Written and performed by a talented cast, this outdoor performance was part of the Royal Shakespeare Company's summer festival. Loosely based around Romeo and Juliet this play contains lines from all of the bards plays and is a clever reflection on the lives of three characters from the play.
Cast
Romeo
Alex Johnson
Mercutio
Kelly Wade
Benvolio
Laura Cooney
Juliet Puppeteer
Hannah Grindy
Creatives
Written and Produced by
The Cast

Gallery
A selection of photographs from the show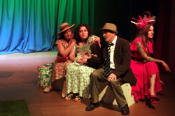 Reviews

DROITWICH STANDARD OCTOBER 11th 2023 WHILE we may not have actually been at the races, All and Sundry's delightful, complex and heartwarming production of 'Ladies Day' certainly left me gripped until the final furlong. When Pearl (Ruth Cattell) decides to leave her job at a Hull fish factory, she takes her three work colleagues to her 'dream' Ladies Day out at Royal Ascot. While the foursome try to enjoy their big day, their long withheld insecurities, regrets and dreams rapidly unfold and they begin to realise their friendship is more valuable than the £500,000 they have a shot at winning on the horses. Cattell delivers a beautifully sensitive portrayal of Pearl as a hopeless romantic who hides her heartbreak through a well developed mask of contentment. Her closest friend Jan (Joy Williamson) acts as a perfect contrast to Pearl as someone who wilfully accepts unhappiness in the name of her values, loyalty and morals. Williamson gives an assured display as the proud and classy character, almost forcing the audience into rooting for her happiness. Kelly Wade is simply spellbinding as Shelley, a woman who, despite showing the biggest bravado, is the most insecure and broken of all the ladies. A scene where Shelley tries to flirt her way to fame quickly turns from hilarious to harrowing and showcases Wade's full acting range. Beth Morrissey brings an effortless likeability to Linda, who we soon learn has had her kind nature and naivety exploited by those closest to her. Linda also got some of the biggest laughs of the night, although this can largely be attributed to Morrissey's great knack for line delivery and stage presence- her innocent and care-free facial expressions to huge revelations tickled my funny bone the most. A particularly genius scene where the ladies give a running commentary on the Royal procession at Ascot gives a compelling insight into their differing values and perspectives. This play also isn't afraid to dedicate entire scenes to letting us get to know the characters through their mundane yet highly entertaining conversations, and this is helped in no small part by the excellent chemistry between the four leads. An early chin wag at the fish factory gave me satisfying flashbacks to Victoria Wood's classic sitcom 'Dinnerladies', from the northern accents and uniform right down to the sharp witted humour and impeccable comedic timing. Hannah Grindy eats up every second of limited stage time as compassionate horse jockey Pat, who plays a crucial role in Linda's marvellous evolution. And awe induced congratulations are in order for Dan Blizzard and Roger Goddard, who both seamlessly transition between multiple roles throughout the play. Blizzard flexes his acting muscles as kind fish factory worker Joe before switching to a far more awkward and seedy persona in Jim the Ascot announcer. Goddard meanwhile only has a single scene each portraying the downtrodden gambler, the shady ticket tout and Barry, a key figure from Pearl's past. While he performs admirably in all three roles, his sensitive, heartfelt and measured showing as Barry was so poignant and heart wrenching it left me on the verge of tears. If you want your own memorable ladies or gents day out, this trip to the Norbury Theatre is definitely a safe bet- odds on you'll love it.

Ladies Day
Norbury Theatre, Droitwich
Tue 10 Oct to Sat 14 Oct
Life is one long, hard slog for the fish-filleting foursome Pearl, Jan, Shelley and Linda. But their fortunes are set to change when they head to Ladies Day at the races. Factory hairnets make way for fascinators as the four friends hit the races for an unforgettable day out. Secrets are spilled with the champagne and friendships are tested to the limit. Yet as the day unfolds and tempers fray, their accumulator bet keeps quietly winning. If their luck and their nerve holds, the ladies could could hit the jackpot – and more.
Cast
Jan
Joy Williamson
Linda
Beth Morrissey
Pearl
Ruth Cattell
Shelley
Kelly Wade
Pat
Hannah Grindy
Joe/Jim
Dan Blizzard
Fred/Kevin/Barry
Roger Goddard
Creatives
Director & Designer
Anthony Madden
Assistant Director/Producer
Janine Parkes
Stage Manager
Brian Wiggins
Lighting and Sound
Norbury Theatre
Costume & Props
Janine Parkes
Publicity & Programme Design
Graham Forbes
Ladies Day Art
Donna Saunders
Photographer
Laura Cooney & Roy Miles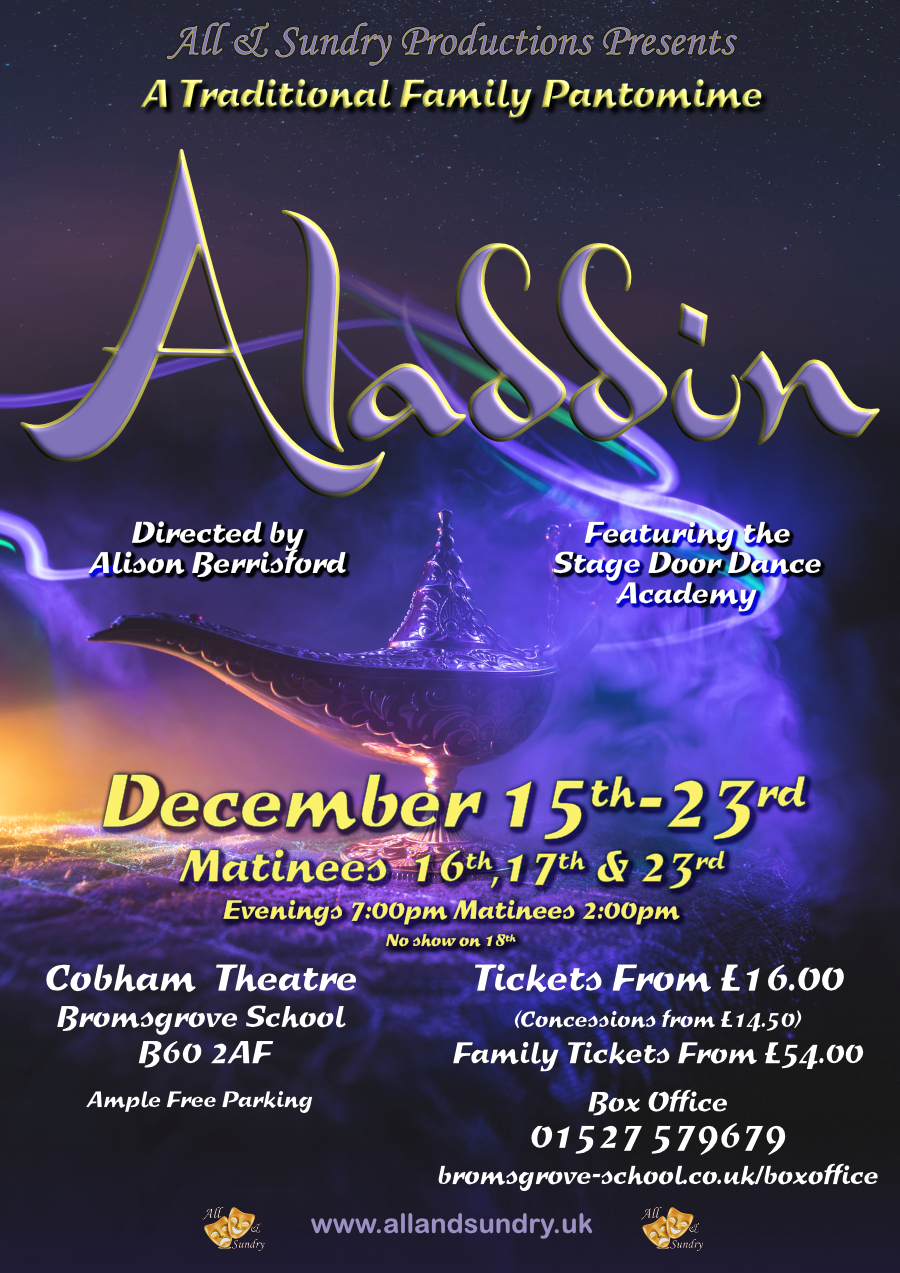 Aladdin
Cobham Theatre, Bromsgrove School
Fri 15 Dec to Sat 23 Dec
All & Sundry's annual pantomime returns with the classic tale of Aladdin.