All and Sundry Shows in 2022
Every year All and Sundry try and put on a broad range of shows to capture the the interest of our members and our wider audience. From Dazzling Pantomimes to gritty drama we hope there is something for everyone
Click on show name to see some details
Gallery
A selection of photographs from the show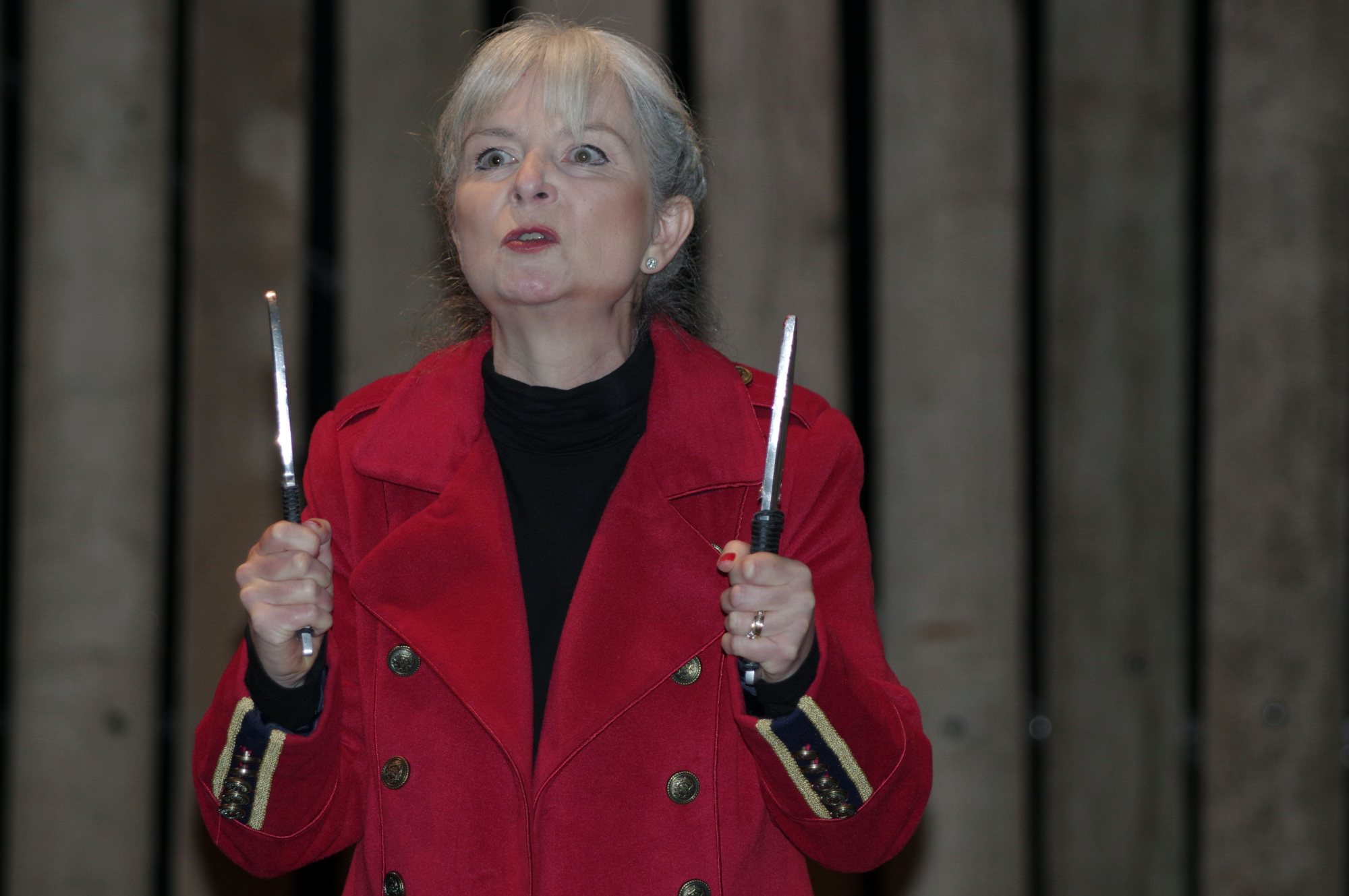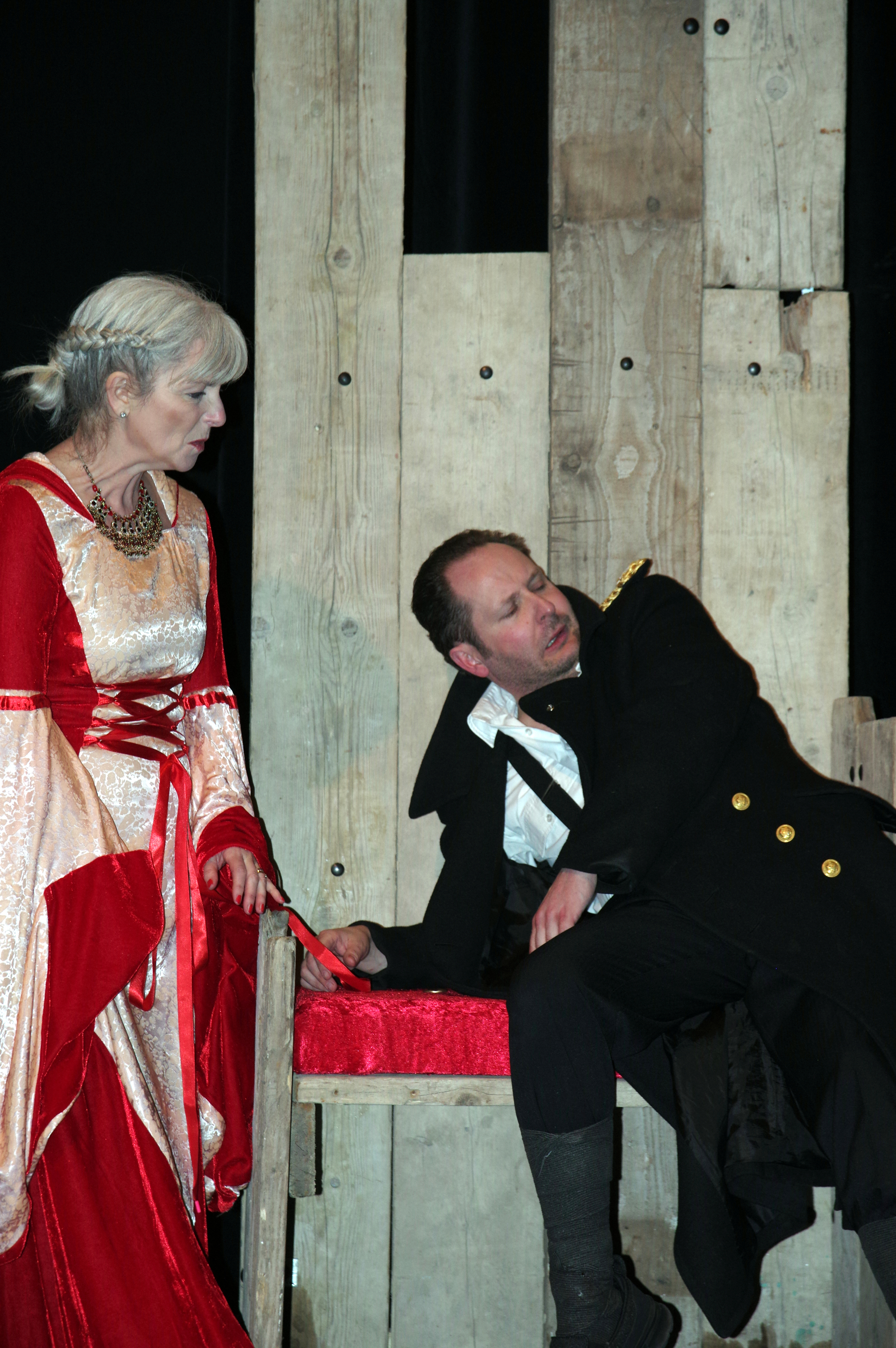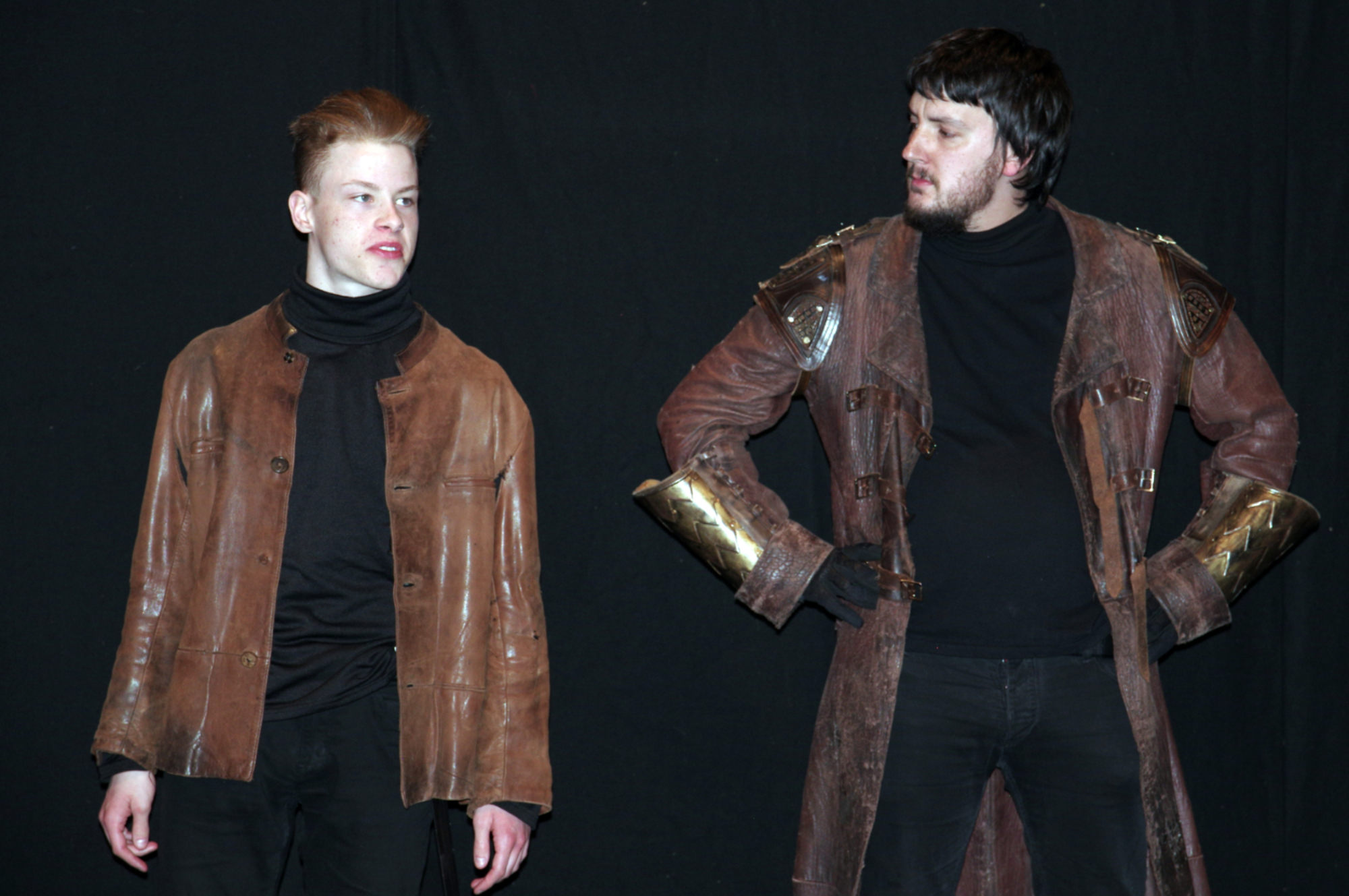 Macbeth
Crescent Theatre, Birmingham
Wed 09 Mar to Sat 12 Mar
All & Sundry proudly present Shakespeare's masterpiece 'Macbeth'. Often referred to as 'The Scottish Play' such is the curse of the mention of the tyrannical, brutal and paranoid King of Scotland as his obsession with power descends him into madness. Three witches predict that a brave, heroic general named Macbeth will become king of Scotland thereby instigating a tragic and bloody chain of events. Acting upon the prophecy and encouraged by his wife, Macbeth slaughters King Duncan who at present resides on the throne and thus becomes King of Scotland fulfilling the prophecy. Once upon the throne he becomes a paranoid, tyrannical ruler who's forced to commit more and more murders as he descends into madness.
Cast
Macbeth
Alan Feeney
Lady Macbeth
Ruth Cattell
The Witches
Laura Cooney Suzanne Lane Phoebe Devenney
Banquo
Rob Capper
Macduff
Matt Field
Ross
Graham Forbes
Duncan/Siward/Old Man
David Goode
Malcolm
Tony Madden
Donalbain
Alex Johnson
Fleance/Young Macduff/Young Siward
Phoebe Devenney
Lady Macduff
Suzanne Lane
Porter
George Cochrane
Hecate
Sarah Pitts
Doctor
Peter Whitten
Gentlewoman
Laura Cooney
Servant/Messenger
Ken Messenger
Captain/Seyton
John Edwards-Bick
Murderers
Matt Field Peter Whitten Ken Messenger
Creatives
Director
John Edwards-Bick
Stage Manager
Brian Wiggins
Lighting and Sound
Simon Wicks
Wardrobe & Props
Royal Shakespeare Company, Stratford
Specialist Props
John Thompson
Set Design & Construction
John Edwards-Bick
Poster Design and Programme
Graham Forbes
Photographer
Roy Miles
Fight Director
Matt Fearnley

Gallery
A selection of photographs from the show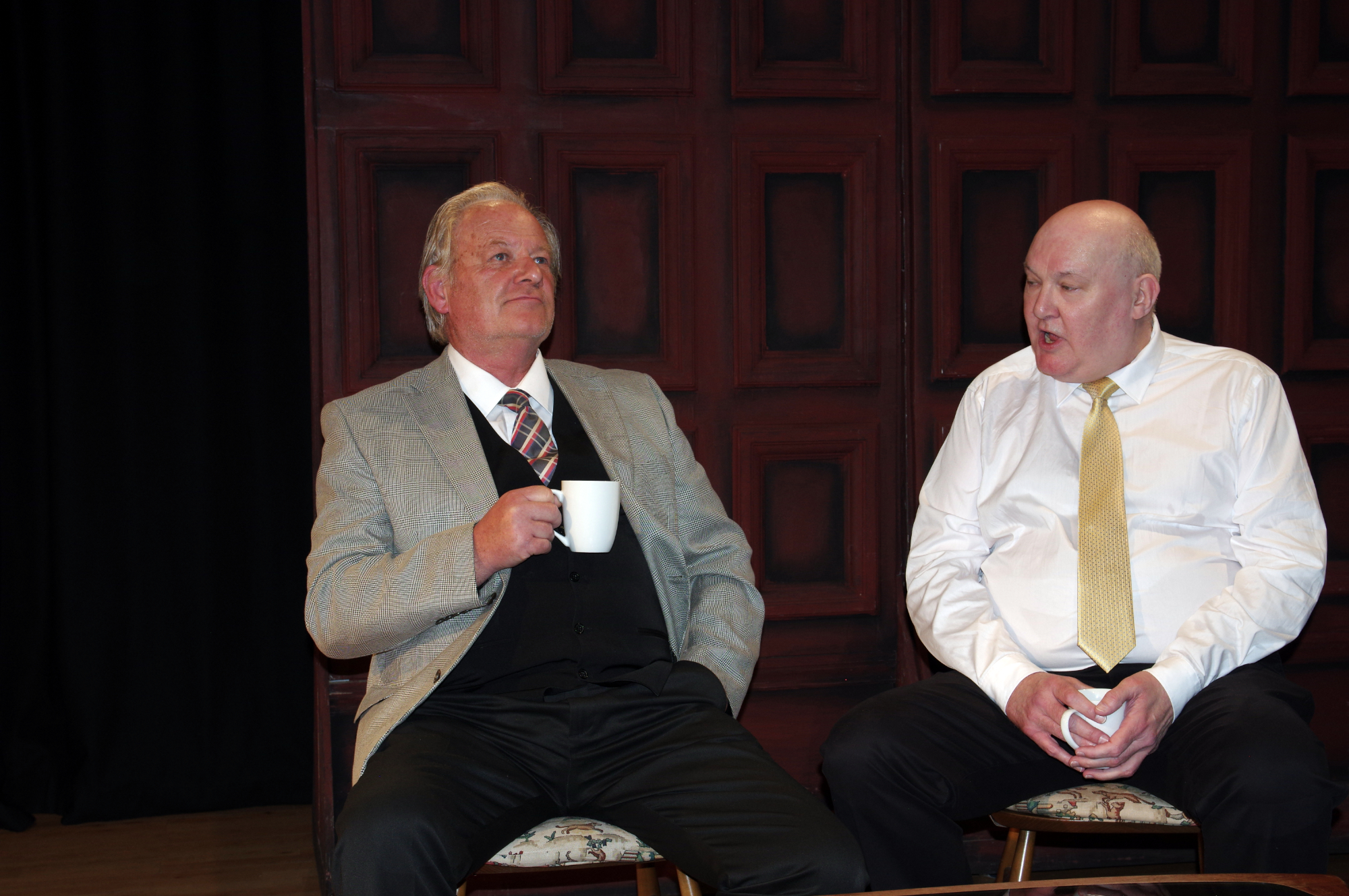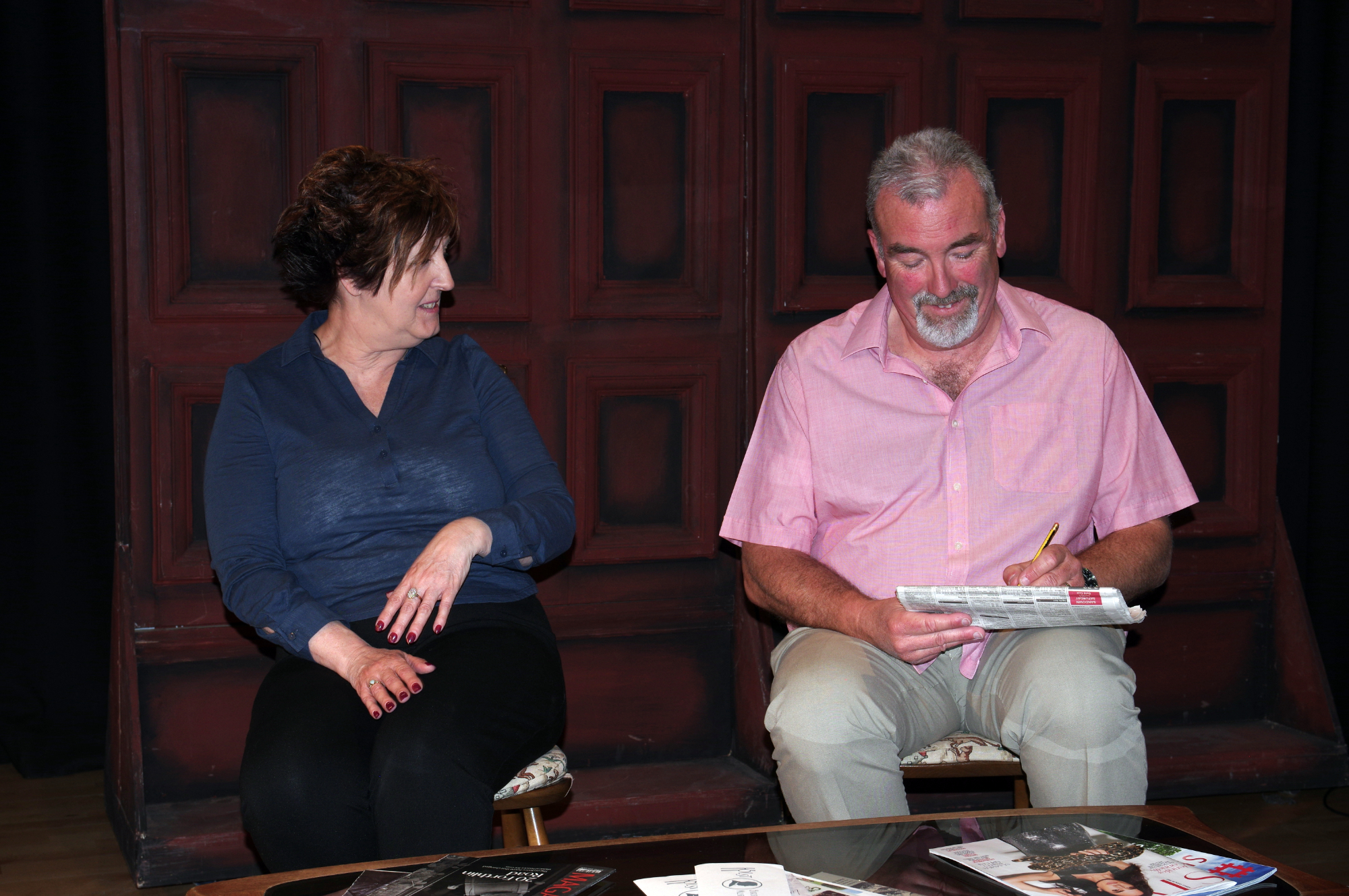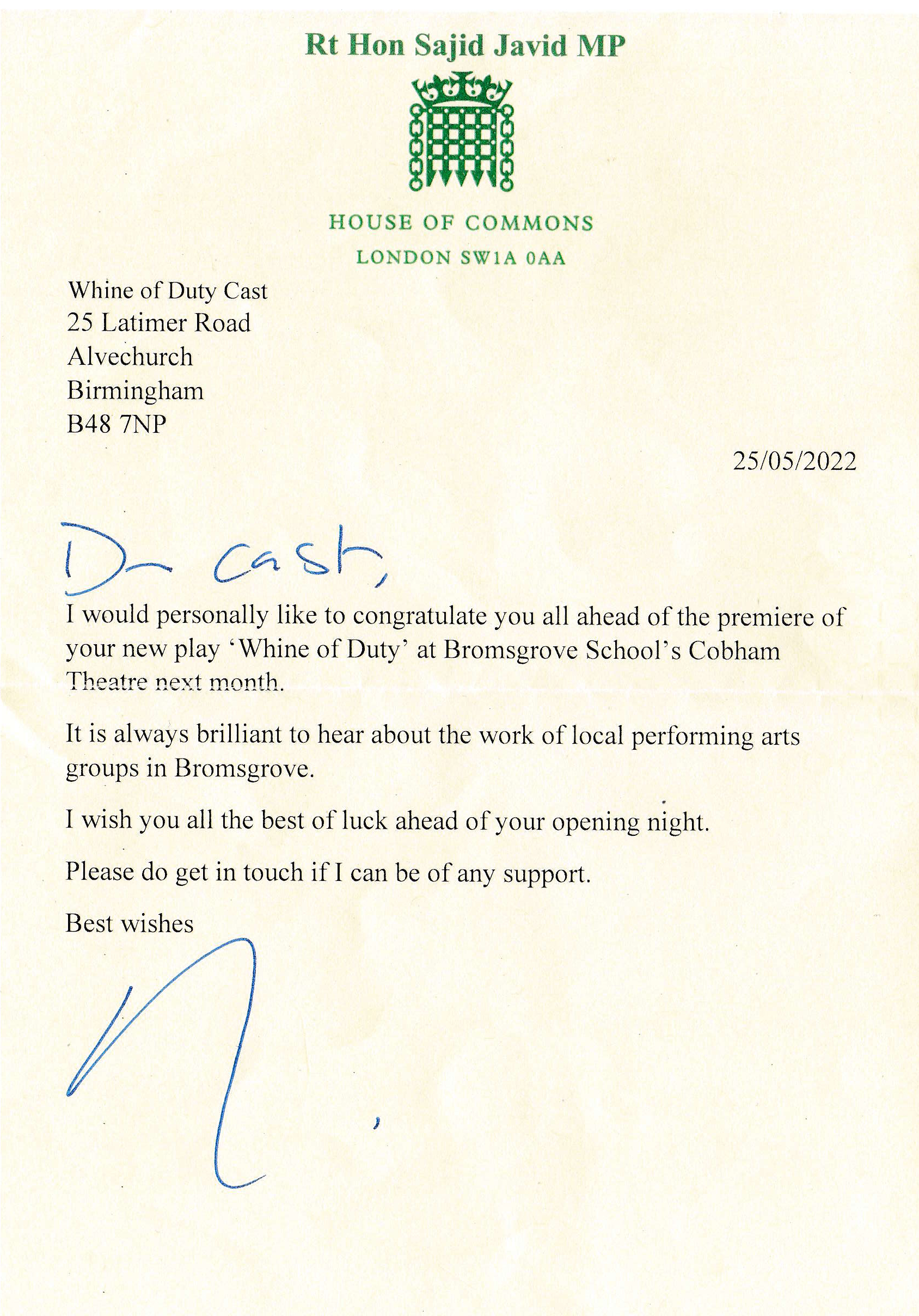 Reviews
fff

Whine of Duty
Cobham Theatre Studio, Bromsgrove School
Wed 01 Jun to Sat 04 Jun
Danny Boyce has recently taken early retirement from his job as a detective, to set up a guest house in downtown Cheltenham with his wife Sandra. When crimes are committed in the town, he can't resist sleuthing and suspecting his guests, much to his wife's chagrin. This new comedy by the author of Fifty Shades Of Beige is a cross between Fawlty Towers and an Agatha Christie who-done-it.
Cast
Danny Boyce
Mike Richardson
Sandra Boyce
Joy Williamson
Brian Dooley
Neil Lane
Alice Watt
Zena Schtyk
Elaine Rodgers
Laura Cooney
James Rodgers
James Ralley
Alan
Dave Healing
Creatives
Written and Directed by
Roger Goddard
Assistant Director
Ken Messenger
Stage Managers
Lynn Hubbard Graham Forbes
Lighting and Sound
Simon Wicks
Artwork and Graphics
Graham Forbes
Photographer
Roy Miles

Gallery
A selection of photographs from the show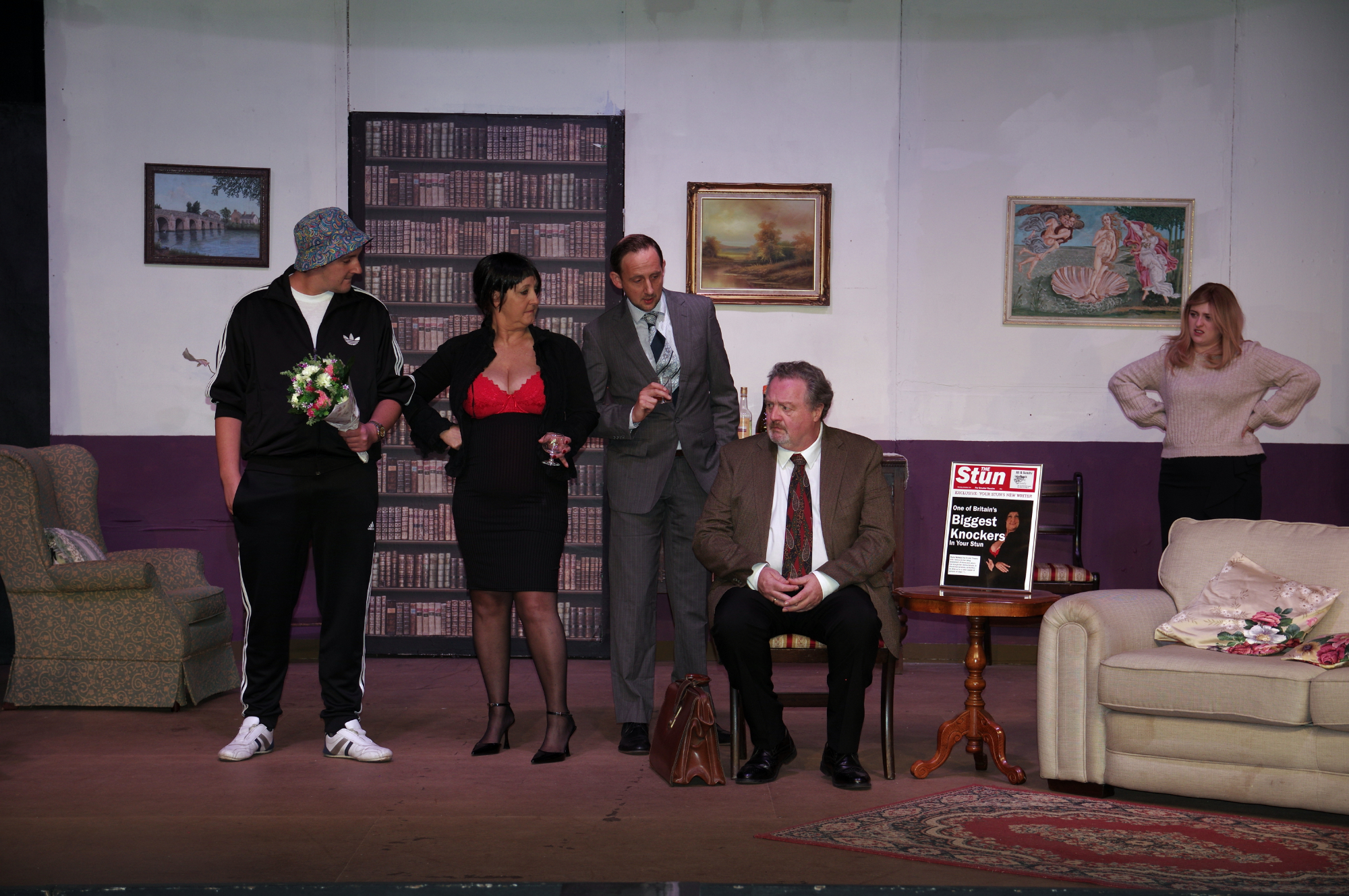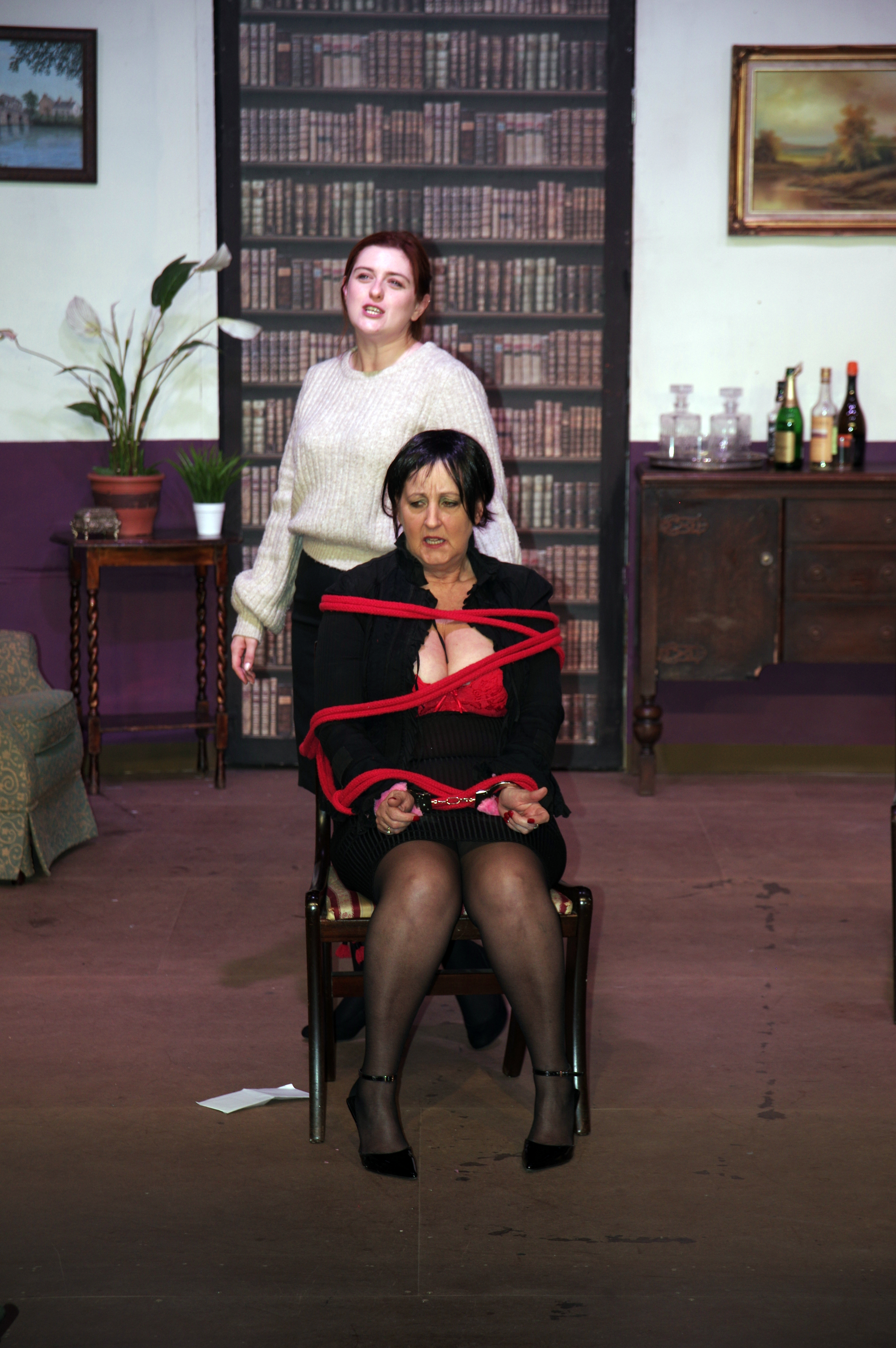 Reviews
Bromsgrove Standard Ryan Smith 28th Sep, 2022 IN A play that emphasises more than any other the importance of a review's every word, All and Sundry's gripping production of the adult comedy 'Silly Cow' has more than earned a fiercely rave one. The play follows the self righteous and brash tabloid journalist Doris, played by Joy Williamson, who with the help of those around her, and a dose of manipulation on her part, attempts to brush off backlash against her theatre and TV reviews while furthering her career. Williamson perfectly portrays Doris as a woman who believes her own delusions and revels in her warped logic, while showing just a hint of the vulnerable woman behind the bravado (and not doing the reputation of us newspaper folk any favours). The blasé way she recalls an unexploded bomb 'almost ruining her big story' leaves you both engrossed in her obsession for a big career and appalled by her lack of morality. There's more than a hint of social commentary in the comedy and the play uses Doris' shy, 'by the book' assistant, Peggy as a good contrast to her mentality. Tanith Garcia is mesmerising in the role and captures the complexities of Peggy's character masterfully. Mark Ewins wonderfully encompasses the essence of an archetypal sleazy media editor through Sidney, crafting an authentic character by analysing every detail down to the shifty body language. Meanwhile Graham Forbes brought an endearing charm to the awkward, straight-laced accountant Douglas, and his deadpan delivery made for some unexpectedly hilarious moments. And a special mention for Matt Field's turn as Doris' young boyfriend Eduardo, whose infectious energy and commitment to his character's quirky adolescent mannerisms was a breath of fresh air. The impeccable groundwork laid out by the play's first half had me both perplexed and intrigued- I didn't know what was coming but I knew it'd be a ton of fun – and it was. But nothing could've prepared me for the genius post interval shenanigans that left the audience enthralled, disorientated and roaring with laughter. One particularly tasty piece of character centred humour involves Doris and Peggy bickering while ordering a pizza, while the latter's sudden outburst to Eduardo in defence of her boss left the audience in hysterics. The show has a recommended age limit of 18 and over and – during these times of often over-sanitised comedy TV shows, films and theatre productions – definitely provides some of the non-PC humour we all used to enjoy. 'Silly Cow' is truly critique proof and you can watch it at Droitwich's Norbury Theatre from 7.30pm every evening until Saturday, October 1.

Silly Cow
Norbury Theatre Droitwich
Tue 27 Sep to Sat 01 Oct
Doris Wallace has everything a tough tabloid columnist could want: a toy boy with a regular supply of Colombian, a pretty personal assistant who might share her libidinous preferences, and the prospect of her own television show. Being sued by an actress for libel is a petty annoyance, but Doris puts her in her place by revealing her ample cleavage as she flirts with the judge and spouts populist bravado. She is ready to celebrate her victory in court when things begin to go wrong. This is a hilarious play by the author of 1998's Lawrence Olivier Award-winning Popcorn.
Cast
Sidney
Mark Ewins
Doris
Joy Williamson
Peggy
Tanith Garcia
Douglas
Graham Forbes
Eduardo
Matt Field
Creatives
Director
Mike Richardson
Stage Manager
Neil Lane
Lighting and Sound
Norbury Theatre
Artwork and Graphics
Graham Forbes
Photographer
Roy Miles
Production Assistants
Hannah Grindy Lynn Hubbard

Gallery
A selection of photographs from the show
Reviews
Tristan Harris 16th Dec, 2022 On a freezing cold winter's night, there was no better way to warm up than with a great traditional fun and family-friendly panto and Hook's Revenge delivered just that. The story centres on the evil Captain Hook – after defeat last time – returning to Neverland in a bid to kill Peter Pan and the crocodile. From the off with the opening chorus-filled extravaganza, this was a joy to watch and you could tell those on stage were having just as much fun. The first night is always a daunting task but this talented cast rose to the occasion – everyone played their part. Among the performances were Natasha Lane as Polly Darling and Daisy Green as Tiger Lilly who were both fantastic and excelled during their solo numbers. Dave Healing and James Ralley reprised their evil henchmen roles – this time as Skull and Bones – and you could tell from the brilliant chemistry they had a finely-tuned double act. It was a good first outing as dame for Tony Madden as Nurse Bedpan – he worked the crowd well and Archie Marks was an audience favourite as Ozzy (Crocodile) Fundee. The pair were involved in the most hilarious scene of the night with the digeridoo – packed full of double entendre and definitely one for the adults. Likewise, Cerys Gillard did well in her first principal role as feisty fairy Tinkerbell. Alex Johnson made a welcome return as the very self-assured Peter Pan. Charlie Sample (Tootles), Poppy Ralley (Nibs), Millie Chamberlain (Slightly) and Benjamin Felthan (Cubby) worked well as the Lost Boys and, likewise Eva Derbyshire, Amelia Marson, Eleanor Vernalls, Rosa Marks, Molly Taylor and Daisy Yarnold were a solid band of mermaids. But the performance of the night went to Dave Berrisford as Captain James T Hook. I went into this wondering how he could top last year's performance (which was excellent) but he at least equalled it. He led this production in the title role and, as well as a stunning almost operatic solo in the second half, he owned the stage and – and his infectious Scooby Doo style laugh – had an unbelievable rapport with the crowd. Such was his performance – as a supposed baddie – he won over quite a few younger members of the crowd (and some adults), epitomised when, during the fight scene when Peter Pan was on the back foot, a girl in front of me shouted out 'kill him Hook'. If you would have offered those watching an extra hour of 'An Audience with Captain Hook' afterwards I think they would've visited the bar for some liquid refreshment and then happily returned in their droves. Panto performances do not come much better than this. The signature UV puppets which All and Sundry has become renowned for was once again a magical scene and a great way to take us into the break. The choreography from Stage Door Dance Academy was also faultless and the group excelled themselves with the scene in the second half on board the Jolly Roger which incorporated gymnastics and cheerleading style pyramids. This was an impressive opening night – some of the microphone issues need addressing and there were a couple of lines forgotten but the latter just added to the hilarity as this closely-knit cast clearly had each other's back and covered with a few giggles. Well done to director Alison Berrisford for another fantastic panto – she continues to ensure the people of Bromsgrove (and from further afield) have quality traditional theatre to watch in the run up to Christmas. I'm returning with my family for the final night and am already looking forward to see how it grows and develops.

Hook's Revenge (Return to Neverland)
Cobham Theatre, Bromsgrove School
Fri 16 Dec to Fri 23 Dec
All & Sundry's annual extravaganza returns with a brand new family pantomime. Captain Hook has long since been defeated by Peter pan and banished from Neverland but now he's returned even more nasty than before and he is determined to wreak his revenge on Peter. To help him in his task, he enlists the help of two of the nastiest pirates ever to sail the seas. Hook is still wary of the ticking crocodile and has hired Australian crocodile hunter Croc Fundee to capture the beast. Meanwhile, Peter Pan enjoys another day having a lie-in after binge-watching the latest Netflix series. It seems that since defeating Hook and his pirates, Peter has become bored and no longer bothers to join in adventures with Tinkerbell and The Lost Boys, In fact, he doesn't even bother to fly anymore because it's too tiring. Peter discovers Hook has returned, but because he hasn't flown in ages, he has now lost the ability to fly. In order to regain the power of flight, he must travel to the Neverlandee tribe's sacred cave and drink from the magical spring. Peter and his friends travel through the Neverland Jungle, beset with a wild gorilla to reach the cave, however once inside, Hook dynamites the only entrance sealing Peter and his friends inside, along with the crocodile. This version of Peter Pan has Peter's feet firmly on the floor, but will that enable Hook to finally defeat his once airborne adversary?
Cast
Captain James T Hook
Dave Berrisford
Peter Pan
Alex Johnson
Nurse Bedpan
Tony Madden
Ozzy Fundee
Archie Marks
Polly Darling
Natasha Lane
Tiger Lily
Daisy Green
Tinkerbell
Cerys Gillard
Skull
Dave Healing
Bones
James Ralley
The Sharman
Ken Messenger
Chief Great Big Little Panther
Neil Lane
Wendy Darling
Zena Schtyk
Tootles
Charlie Sample
Nibs
Poppy Ralley
Slightly
Millie Chamberlain
Cubby
Benjamin F
Mermaids
Eva Derbyshire
Rosa Marks
Amelia Marson
Molly Taylor
Eleanor Vernalls
Daisy Yarnold
Youth Ensemble
Amelia Bishop
Amelia Byng
Millie Chamberlain
Livvy Cooper
Bridie Critchlow
Verity Culleton
Anna Davies
Joy Davies
Maisie Deeley
Eve Derbyshire
Alivia Faulkner
Autumn Faulkner
Benjamin F
Ruby Frost
Bobby Glaze
Emily Glover
Emilia Halford
Isobel Harborne
Olivia Husbands
Lillian Lancaster
Mikey Lewis
Rosa Marks
Amelia Marson
Poppy Ralley
Helena Talbot
Sophia Talbot
Molly Taylor
Charlotte Vernalls
Eleanor Vernalls
Sophie Vernalls
Maya Warman
Millie Warman
Lana Withers
Phoebe Yarnell
UV Puppeteers
Amelia Byng
Livvy Cooper
Bridie Critchlow
Eva Derbyshire
Alivia Faulkner
Emily Glover
Zoe Griffiths
Melody Hubbard
Olivia Husbands
Mikey Lewis
Rosa Marks
Amelia Marson
Molly Taylor
Eleanor Vernalls
Sophoe Vernalls
Maya Warman
Millie Warman
Daisy Yarnold
Stage Door Dance Academy
Amelia Bishop
Livvy Cooper
Verity Culleton
Anna Davies
Joy Davies
Eva Derbyshire
Ruby Frost
Daisy Green
Isobel Harbourne
Melody Hubbard
Natasha Lane
Rosa Marks
Helena Talbot
Sophie Talbot
Molly Taylor
Charlotte Vernalls
Eleanor Vernalls
Sophie Vernalls
Maya Warman
Full Senior Ensemble & Dancers
Olamide Biobun-Badmus
Charlie Sample
Zoe Griffiths
Emma-Louise Hodgson
Melody Hubbard
Daisy Yarnold
Creatives
Director
Alison Berrisford
Assistant Director & Choreographer
Martina Ponsonby
UV Choreographers
Sarah Charmley Alison Berrisford
Stage Manager
Brian Wiggins
Assistant Stage Manager
Neil Lane
Sound
Simon Wicks
Lighting
The Lighting Factory
Microphones
Kerry Parkes
Fly Team Leader
John Edwards-Bick Rob Vernalls
Fly Gallery Crew
Gareth Andress John Edwards-Bick Steve Cooper Terry Green Craig Marks Rob Vernalls Paul Warman
Back Stage Crew
Graham Forbes Chris Culleton Donna Halford Matt Halford Lynn Hubbard Hannah Marks Max Ponsonby Amy Wicks Laury Wiggins Alex Withers
Wardrobe
Janine Parkes Kerry Parkes Alison Berrisford
Make up
Janine Parkes
Crocodile Design & Build
Jamie Hubbard
Props Master
Lynn Hubbard
Crocodile Crew
Rachel Andress Jamie Hubbard Lucy Hubbard
Publicity
Alison Berrisford Graham Forbes Roger Goddard Janine & Kerry Parkes Martina Ponsonby Brian Wiggins
Programme
Simon Wicks
Poster Design
Graham Forbes
Photographer
Roy Miles
Safeguarding Officer
Neil Lane
Chaperones
Cara-Poppy Anderson Valerie Anderson Clare Bishop Nicky Gillard Julie Green Judy Lane Nicholette Marks Staci Marshall Kirsty Read Gill Wiggins
Fight Arranger
Matthew Fearnley
Transport
John Edwards-Bick
Special thanks to Bromsgrove School
Bev Needham Liz Swift Tom Jude