All and Sundry Shows in 2021
Every year All and Sundry try and put on a broad range of shows to capture the the interest of our members and our wider audience. From Dazzling Pantomimes to gritty drama we hope there is something for everyone
Click on show name to see some details
Gallery
A selection of photographs from the show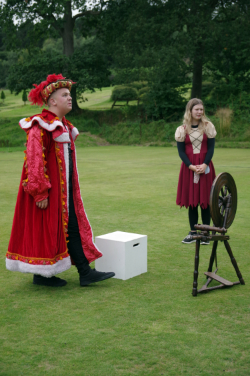 Grimm & Twisted Tales
Rose Hill Golf Club
Sat 21 Aug to Sun 22 Aug
Some of the brothers Grimm's tales brought to life in an outdoor theatre production. The talented cast play multiple roles in a genuinely Grimm portrayal of Hansel and Gretel , Cinderella, Little Red Riding Hood amongst others. Think you now the real story... think again.
Cast
The Actors
Alex Johnson
Archie Marks
Daisy Green
Max Dickinson
Megan Chase
RachelMcDonnell
Creatives
Written by
Coral Dickinson
Director
Coral Dickinson
Sound
Simon Wicks
Wardrobe
Alison Berrisford Janine Parkes
Set Construction
John Edwards-Bick
Artwork and Graphics
Graham Forbes
Safeguarding Officer
Neil Lane
Music
Max Dickinson
Rehearsal Assistant
Nicholette Marks

Gallery
A selection of photographs from the show
Reviews
PANTO has returned to Bromsgrove – it was a different venue and logistics for the director, cast and crew but the same high quality show audiences have enjoyed from All and Sundry for years. This had everything you want from a good panto – the good vs bad, plenty of one-liners and corny jokes and loads of opportunities for audience participation. It began with a nod to the venue change and dame Corona McVitie, excellently played by David Mann, making a string of gags about Bromsgrove School which set the tone for the rest of the evening. Mann delivered another masterclass, having played the dame for years. Having seen a multitude of pantos all over the Midlands, he is one of the most risque around which ensures the adults enjoy the show as much as the children. Amy Wicks was wonderful as Wendy Darling, including a great solo, and Rachel Andress as Tinkerbell and Alex Johnson as Peter Pan also put in fantastic performances. But the star of the show was undoubtedly Dave Berrisford as Hook. I did not think it possible to be able to play camp and ferocious in the same role but he pulled it off, leaving the audience with a Marmite dilemma – you know you should be hating him but you could not help love the character he portrayed. The performance was perfect – from the vocals on his solo songs to the personal interaction with the audience which again is among the best I have seen. His rapport with Smee was also top notch. Credit to the fantastic Emma Hay – she has a wonderful way of playing those 'over the top' roles which mean the laughs just keep flowing. The highlight of the evening for me was Mann and Berrisford's flirty festive duet rendition of 'Baby It's Cold Outside' which saw them journey out into the audience. The crocodile was also suitably comical, the UV puppets made a welcome return and in what I believe to be an All and Sundry first and one which would not have been possible at Artrix – the magical Peter Pan and Wendy flying scene using lines and dry ice to bring that extra sparkle. As we've come to know and love with Bromsgrove pantos, the Stage Door Dance Academy did another terrific job with the choreography and, although the transition to a completely different set-up would have come with its fair share of stress, director Alison Berrisford should be very proud of the production and every member of her cast and crew.

Peter Pan
Cobham Theatre, Bromsgrove School
Thu 16 Dec to Thu 23 Dec
Wendy Darling and her brothers, John and Michael, are disturbed by Peter Pan and Tinkerbell, his rather jealous fairy, who are searching for Peter's missing shadow. After Wendy sews his shadow back on, Peter invites them to join him in Neverland where they meet the rest of the Lost Boys and do battle with the evil Captain Hook, who is always on the look-out for the man eating, ticking crocodile who swallowed his left hand and is hungry for the rest of him. Joining them in Neverland, is their ex-nanny, Corona McVitie, the man hungry Dame who somehow ends up as ship's cook for Captain Hook.
Cast
Peter Pan
Alex Johnson
Wendy Darling
Amy Wicks
Captain James T Hook
Dave Berrisford
Corona McVitie
David Mann
Mr Smee
Emma Hay
Tinkerbell
Rachel Andress
Rum
James Ralley
Coke
Dave Healing
John Darling
Cerys Gillard
Michael Darling
Mikey Lewis
Tiger Lily
Daisy Green
Tootles
Archie Marks
Nibs
Charlie Sample
Cubby
Bobby Glaze
Slightly
Tobias Hay
Mr Darling/Indian Chief
Neil Lane
Mrs Darling
Tina Andress
Chief's No 1 Wife
Sarah Preedy
Nana the Dog
Maya Warman / Verity Culleton
Mermaids
Natasha Lane, Rosa Marks Molly Taylor, Eleanor Vernalls
Youth Ensemble
Amelia Bishop
Millie Chamberlain
Livvy Cooper
Verity Culleton
Olivia Husbands
Lilian Lancaster
Natasha Lane
Rosa Marks
Poppy Ralley
Helena Talbot
Sophia Talbot
Molly Taylor
Charlotte Vernalls
Eleanor Vernalls
Sophie Vernalls
Maya Warman
Millie Warman
Phoebe Yarnell
UV Puppeteers
Amelia Bishop
Millie Chamberlain
Livvy Cooper
Verity Culleton
Zoe Griffiths
Melody Hubbard
Olivia Husbands
Daisy Green
Natasha Lane
Archie Marks
Rosa Marks
Sarah Preedy
Charlie Sample
Sophia Talbot
Molly Taylor
Eleanor Vernalls
Sophie Vernalls
Maya Warman
Millie Warman
Phoebe Yarnell
Stage Door Dance Academy
Rachel Andress
Tina Andress
Amelia Bishop
Verity Culleton
Livvy Cooper
Daisy Green
Melody Hubbard
Natasha Lane
Helena Talbot
Sophia Talbot
Molly Taylor
Charlotte Vernalls
Eleanor Vernalls
Sophie Vernalls
Amy Wicks
Full Senior Ensemble & Dancers
Olamide Biobun-Badmus
Melody Hubbard
Zoe Griffiths
Creatives
Director
Alison Berrisford
Assistant Director and Choreographer
Martina Ponsonby
UV Choreographers
Sarah and Catrin Charmley
Assistant Choreographer
Rachel Andress
Stage Manager
Brian Wiggins
Assistant Stage Manager
Neil Lane
Sound
Simon Wicks
Lighting
The Lighting Factory
Fly Team Leader
John Edwards-Bick
Fly Gallery Crew
Gareth Andress, Steve Cooper, Matt Gillard, Craig Marks, Rob Vernalls, Simon Warman
Back Stage Crew
Graham Forbes, Julie Green, Roger Goddard, Lynn Hubbard, Neil Lane, Craig Marks, Anja Parkes, Kerry Parkes, Emma Stevens, Dennis Teale, Rob Vernalls, Paul Warman, Simon Warman, Sam Wicks
Wardrobe
Janine Parkes, Kerry Parkes, Alison Berrisford
Make up
Janine Parkes
Props
Lynn Hubbard
Crocodile design and build
Jamie Hubbard
Large Props
John Edwards-Bick
Publicity
Alison Berrisford, Graham Forbes, Roger Goddard, David Mann, Janine and Kerry Parkes, Martina Ponsonby, Brian Wiggins, Special thanks to Lee Guest and Sarah Preedy
Programme
Simon Wicks
Poster Design
Graham Forbes
Photographer
Roy Miles
Safeguarding Officer
Neil Lane
Chaperones
Jo Day, Lucca Greaves, Julie Green, Jo Hackett, Tina Hughes, Abigail Lake, Judy Lane, Nicolette Marks, Staci Marshall, Kirsty Read
Fight Arranger
Matthew Fearnley
Flying Equipment and Training
Phoenix Flying
Pyrotechnics operator and Mics
Kerry Parkes
Front of House
Special thanks to all FOH helpers
Transport
John Edwards-Bick
Special thanks
Bev Needham, Liz Swift and Tom Needham from the Bromsgrove School for their cooperation.