All and Sundry Shows in 2011
Every year All and Sundry try and put on a broad range of shows to capture the the interest of our members and our wider audience. From Dazzling Pantomimes to gritty drama we hope there is something for everyone
Click on show name to see some details
Gallery
A selection of photographs from the show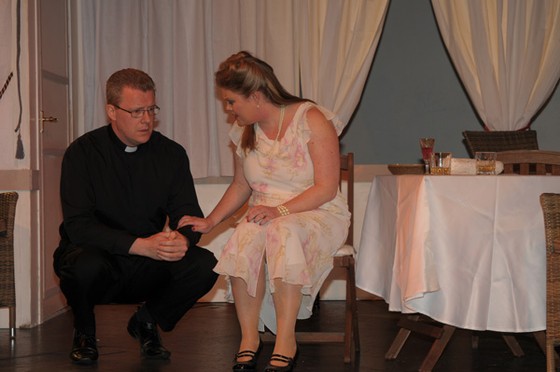 Murder on the Nile
Artrix, Bromsgrove
Wed 23 Mar to Sat 26 Mar
By Agatha Christie. We are in the thirties and follow the occupants of a boat on a tour of the Nile and look in on the lives of several very rich individuals as the reason for their being here unfolds and the mystery deepens and thickens before your very eyes. The very rich and very beautiful Kay Ridgeway has married. Her guardian, Canon Pennefather, put in his position by her father when her parent was alive, was far away and so she married and went abroad with her new husband without care or concern for anyone other than herself. The husband of this beautiful billionaire has apparently abandoned his onetime love for this stunning Kay Ridgeway, and now he and his bride are honeymooning in the romantic land of the Pharaohs. What could possibly go wrong? You are the fly on the wall. Can you unravel the mystery and pinpoint the culprit, or culprits?
Cast
Steward
Mark Whitehouse
1st Beadseller
George Winchester
2nd Beadseller
John Pimm
Christina Grant
Mel Jeffrey
Miss ffolliot-ffoulkes
Mary Field
Smith
Simon Baker
Louise
Victoria Vollans
Dr Bessner
Graham Forbes
Kay Mostyn
Helen Parsons
Simon Mostyn
Rory McGhie
Canon Pennefather
Andrew Corcoran
Jacqueline DeSeverac
Emma Hobday
Creatives
Director
Neale McGrath
Producer
Victoria Vollans
Assistant Director
Malcolm Berwick
Choreographer
Martina Ponsonby
Stage Manager
Brian Wiggins
Sound Designer
Simon Wicks
Sound operator
Staci Marshall
Back Stage Crew
Mike Richardson, Staci Marshall Megan Walford, Ciara McGhie
Wardrobe
Alison Berrisford Cast Members
Props
George Winchester, Cast Members
Set Design
Paul Vollans
Carpentry
Barb Allington
Set Construction
Rob Treen, Howard Vollans Andrew Corocran, James McGhie Mike Richardson, Graham Forbes John Pimm, George Winchester
Set Graphics
Lee Guest
Publicity
Brian Wiggins
Poster Design
Dogs Dinner Designs
Photographer
Pete Reynolds
Make up
Diane Cohen
Programme
Simon Wicks
Original Theme Tune
Graham Forbes - based on Jerusalem by William Blake and Charles Hastins Parry


Street Beat
Artrix, Bromsgrove
Tue 28 Jun to Sat 02 Jul
Lyricist and Scriptwriter: Keith Palmer Composer and Scriptwriter: Paul Vollans Led by the ruthless and bullying Jazzer, the Street Beat gang dominates the neighbourhood. The big-hearted Major, an ex-army man haunted by the belief that he was responsible for the death of a number of his men, takes the matter into his own hands. But the outcome is very far from what he planned....
Cast
Henry Jordan
Malcolm Berwick
Emma Jordan
Lauren-Louise Devine
Patsy
Louisa Hartley
Milo
Andrew Hill
Major Toulson
Mike Richardson
Tab
Michelle Ball
Crack
Jamie Grant
Jazzer
Loz Bourne
Louis
Simon Thompson
Kelly
Carla Buckley
Mo
Rianne Hawkins
Sonic
Michelle Creighton
Ruby Beckstein
Emma Hobday
Benson Bullshott
Simon Baker
Regina Griffon
Chris Reynolds
Ghosts
Nigel Buckley
Onlookers
Margaret Baker

Gallery
A selection of photographs from the show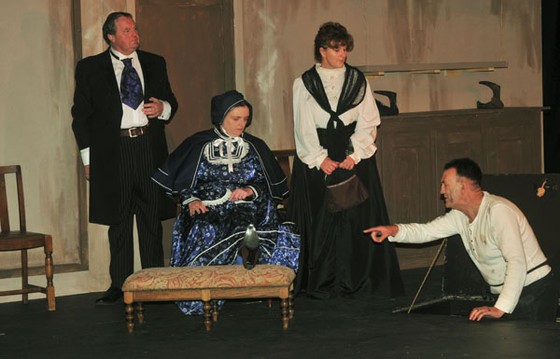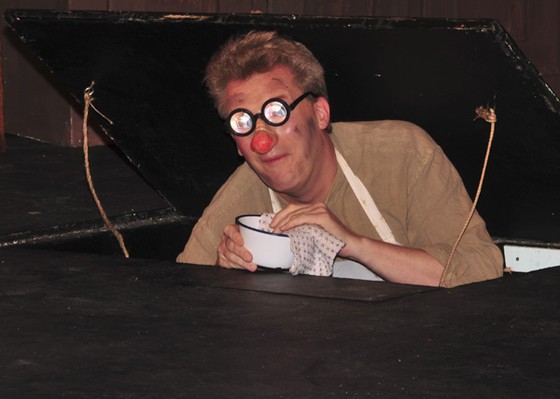 Hobsons Choice
Crescent Theatre, Birmingham
Tue 20 Sep to Sat 24 Sep
Will Mossop is the underpaid assistant to a domineering boot-shop owner Henry Hobson who lords it over his employees and three daughters by day, and drinks heavily with his fellow masons by night. But one daughter breaks free of her father's tyranny, marries Will, and together they set up a rival boot shop. Hobson vehemently opposes this, until circumstances force him to make a choice.
Cast
Alice Hobson
Ciara McGhie
Maggie Hobson
Gail McGhie
Vickey Hobson
Lorna Treen
Albert Prosser
Rory McGhie
Henry Hobson
Graham Forbes
Mrs. Hepworth
Barbara Treen
Timothy Wadlow (Tubby)
Andrew Corcoran
William Mossop
Malcolm Berwick
Jim Heeler
George Cochrane
Ada Figgins
Helen Parsons
Fred Beenstock
Jamie Grant
Dr. MacFarlane
John Edwards-Bick
Creatives
Director
Neale McGrath
Producer
Victoria Vollans
Assistant Director
Emma Hobday
Stage Manager
Brian Wiggins
Sound Designer
Simon Wicks
Back Stage Crew
James McGhie, Tony Hobday Erren Ball, Howard Vollans
Wardrobe
Alison Berrisford Cast Members
Props
George Winchester, Cast Members
Set Design
Neale McGrath
Carpentry
Hartle lane Saw Mill
Set Construction
Malcolm Berwick, Andrew Corcoran Graham Forbes, Tony Hobday Arali McGrath, Neale McGrath Howard Vollans, Brian Wiggins George Winchester
Publicity
Brian Wiggins
Poster Design
Neale McGrath
Photographer
Pete Reynolds
Make up
Nathan Boltz
Programme
Simon Wicks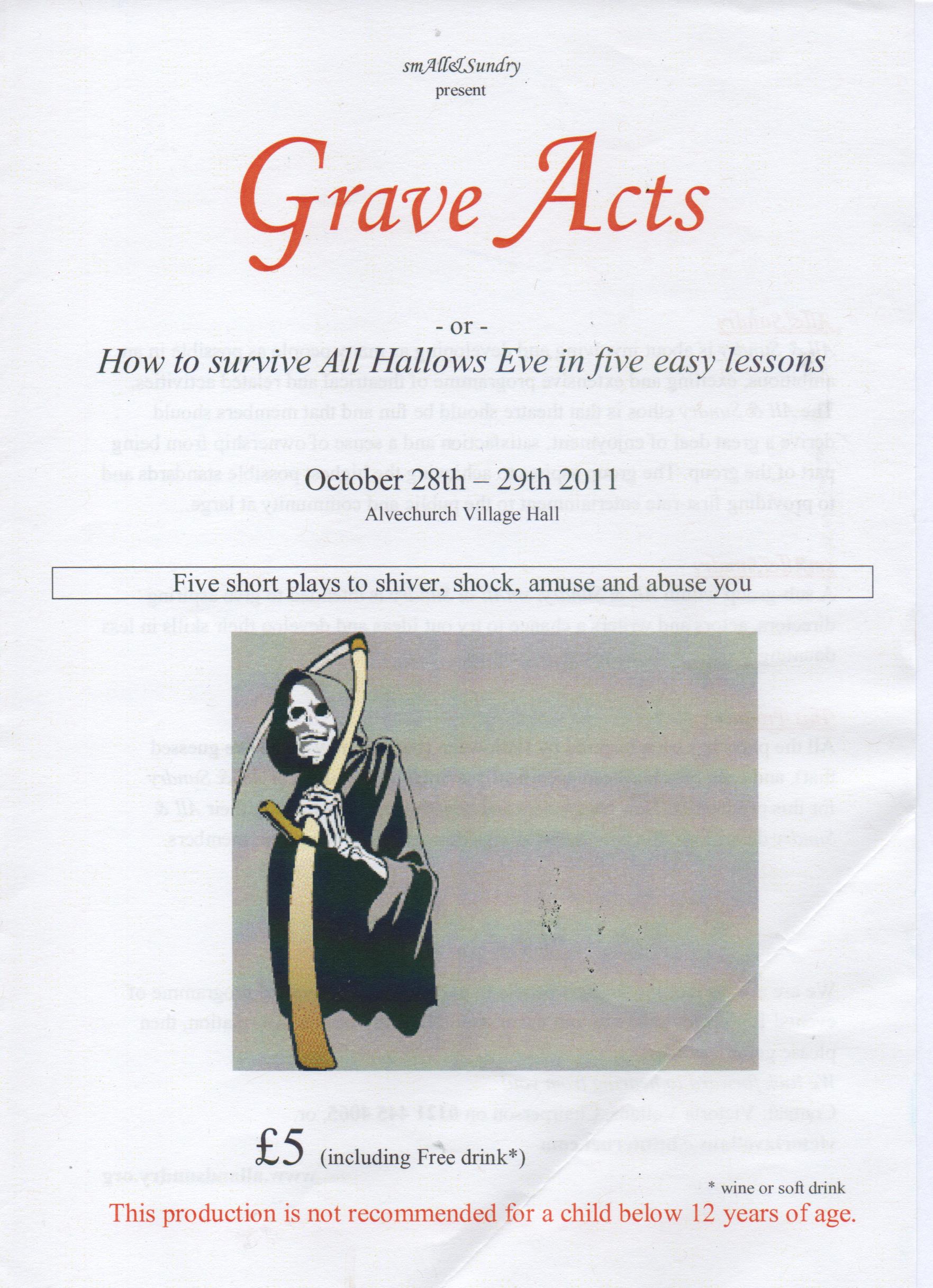 Grave Acts
Alvechurch Village Hall
Fri 28 Oct to Sat 29 Oct
How to survive All Hallows Eve in five easy Lessons. Five short plays from the pen of A&S writers club to shiver, shock, amuse and abuse you. This production is not recommended for a child below 12 years of age
Cast
The Souling Party - Directed by Roger Goddard
Helen
Mary Field
Dave
John Pimm
Kate
Barbara Treen
Mike
Mike Jeffrey
Unresolved - Directed by Graham Forbes
Sinclair
Richard Walter
Client
Gail McGhie
Unlucky Fortune - Directed by John Pimm & Emma Hobday
Adams
John Pimm
Brenda
Emma Hobday
The Butcher Of Bourneheath - Directed by John Edwards-Bick
Son
Graham Halliday
Father
Roger Goddard
The Knife - Directed by Mark Whiitehouse
Hooper
Richard Walter
Rivers
Mike Jeffrey
Mr Jones
Bob Wilkes
Creatives
Written by
Graham Forbes, Roger Goddard Mike Richardson


Beauty and the Beast
Artrix, Bromsgrove
Wed 14 Dec to Sun 18 Dec
A traditional Pantomime
Cast
Belle
Arali McGrath
Prince/Beast
Jamie Grant
Polly Potts
Kat Cashmore
Lambrini
Nigel Buckley
Chardonnay
Mick Randle
Crouton
Andrew Hill
Victor Vandare
Emma Hobday
Mr Cob
George Cochrane
Witch Greenfly
Ciara McGhie
Gaston
Rory McGhie
Fairy Rosebud
Victoria Vollans
Kingsmill and Chorus
Catrin Charmley and Chloe Potts
Stage Door Dance Academy & Ensemble
Deyon Giles
Phoebe Heslop
Megan Hill
Naomi Hill
Abigail Johns
Amelia McNab
Lucy Nicholls
Sally Nicholls
Jennifer Wicks
Amy Wicks
Laury Wiggins
Junior Dancers & Ensemble
Lauren Bough
Tegan Nutton
Max Ponsonby
Joe Seaman
Lucy Scragg
Jessica Taylor
Abbie Trice
Sam Wicks
Adult Ensemble
Emma Hay
Mandy Hawkes
Jenny McGarry
Joanne Wright
Creatives
Director
Alison Berrisford
Producer
Victoria Vollans
Assistant Director & Choregrapher
Martina Ponsonby
Stage Manager
Brian Wiggins
Sound Designer
Simon Wicks
Lighting
Matt Bird, Midland Theatre Services
Fly Team Leader
John Edwards-bick
Fly Gallery Crew
Chris Taylor, Jamie Hubbard Colin McNab
Back Stage Crew
Staci Marshall, John Pimm Barbara Treen, Howard Vollans Malcolm Berwick, Rianne Hawkins James McGhie, Jane Sims Lynn Hubbard
Wardrobe
Alison Berrisford
Scenery Artwork
Lee Guest
Props
Alison Berrisford, Rita Ryan Stage Door Dance Academy
Carpentry
Barb Allington - Hartle Lane Saw Mills
Publicity
Brian Wiggins, Jane Sims
Poster Design
Alison Berrisford
Photographer
Pete Reynolds
Rehearsal Photographer & Rehearsal Support
Buffy Johns
Lead Chaperone
Ros Johns
Chaperones
Julia Walford, Gill Wiggins Tim Hull, Jules Evans
Front of House
Malcolm Berwick, Roger Goddard Helen Hill, Pat Hobday Gail McGhie, Martina Ponsonby Rita Ryan, Danno Williams
Make up
Diane Cohen
Programme
Simon Wicks